It used to be that finding a water-resistant, to say nothing of a waterproof smartphone, was tricky business. Here in the US, anyway, such models were few and far between, though the handset market in nations like Japan was a lot quicker to embrace such features. But in recent years we've really seen global availability of waterproof phones take off, as even mainstream flagship models start protecting themselves against wayward moisture. Sony's found itself at the forefront of this big waterproofing push, and has been designing Xperia models for generations now that can take a plunge and keep right on working. We've already witnessed some innovative ways to capture the public's attention with waterproof phones, and this week Sony's latest gets underway, as the company cuts the ribbon on its first underwater smartphone store.
OK, so it's not quite the same as a full-on brick-and-mortar retail location, but the new Xperia Aquatech concept store is now open in the waters off Dubai. There, divers can be led by Sony employees down into the submerged "showroom" where Xperia products are on hand to be demoed.
We know, it's very much a marketing stunt (Sony even needed to outfit its "waterproof" phones with extra cases to bring them down to the Aquatech store, as it's deeper than devices like the Z3 are rated for), but it's sure got us paying attention. And with rumors of a Z4 just around the corner, we're curious to see what Sony's up to next, and if it intends to step up its Android game. At the very least, with winter soon descending upon the Northern Hemisphere, a visit to a subtropical smartphone store in crystal-clear warm waters is sounding pretty good right about now.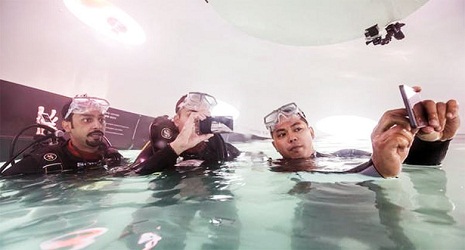 More about: