But Mr. Silver's arrest on Thursday on corruption charges has thrown into question that arrangement, in which the governor and the leaders of the two chambers of the Legislature privately decide the most crucial policies of the state. It is a potentially seismic shift in power whose reverberations may be felt throughout the state, from the speaker's home district on the Lower East Side of Manhattan to the grounds of the State Capitol.
Until now, Albany lawmakers accustomed to what prosecutors called a "show-me-the-money culture" have taken comfort in knowing that their most powerful figure was unassailable — untouched despite years of inquiries, suspicions and rumors of impropriety.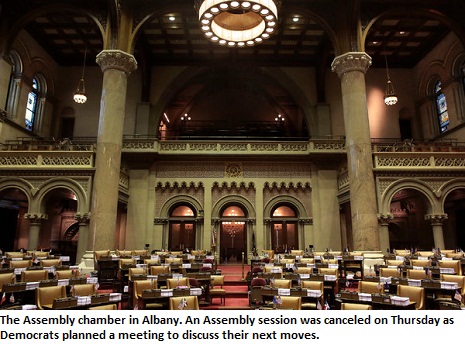 The events this week have shaken that sense of security and raised the possibility that Mr. Silver, the quintessential capital insider, could reveal his own colleagues' misdeeds to federal prosecutors in exchange for leniency.
For the state's orbit of lobbyists, advocates, elected officials and industry executives with a stake in the productivity and product of the Legislature, Mr. Silver's potential diminution, if not exit, carries enormous consequences.
"It's chaos," said Richard L. Brodsky, a former Democratic assemblyman from Westchester County. "So much is at stake for the public."
Mr. Silver is arguably the most powerful Democrat in the state, a mercurial and potent force who could single-handedly sink the most cherished plans of mayors and governors.
Put simply, he was a vision slayer. Michael R. Bloomberg, the former mayor, watched as Mr. Silver torpedoed his plans to build a stadium on the West Side of Manhattan and introduce a peak-hour tariff on drivers. The ideas crashed on the shoals of "Shelly," as the speaker, Oprah-like, is invariably called in the Capitol.
Labor unions and big industries like real estate depended on Mr. Silver to defend their interests in back-room negotiations, where he, governors and Senate leaders determined the fate of new legislation each year.
High-priced political advice is doled out on the assumption of Mr. Silver's power; with that in question, perhaps all bets are off.
"Any interest group whose political strategy depends on the strength of the Assembly, they have to be concerned," said Blair Horner, the legislative director for the New York Public Interest Research Group.
Members who counted on Mr. Silver's support in the coming session could find themselves facing question after question about the allegations.
And groups that rely on the smooth functioning and static leadership of the Assembly worry that the body could descend into the infighting and disarray that have made the State Senate a punch line for late-night comedians.
As one real estate executive put it on Thursday, "Shelly is the devil we know."
Mr. Silver has long been the key representative of New York City in a legislative body that could be notoriously unfriendly to the city's interests. Recently, he also emerged as an important adviser to Mayor Bill de Blasio, who may now be forced to navigate Albany's machinery without a like-minded friend in the negotiating room.
Questions were already being raised on Thursday about Mr. de Blasio's legislative agenda, which includes immigration reform efforts backed by Mr. Silver. Mr. de Blasio spearheaded a campaign last year to unseat the Republican majority in the State Senate; that effort fell short, and Dean G. Skelos, a Long Island Republican who is the Senate majority leader, has signaled that he is disinclined to aid the mayor.
Mr. de Blasio, who had a win-a-few, lose-a-few legislative session last year, is also wary of Gov. Andrew M. Cuomo's efforts to expand charter schools and weaken teachers' unions. Mr. Silver was a bulwark against those efforts, and a waning of his influence could hurt the mayor's leverage.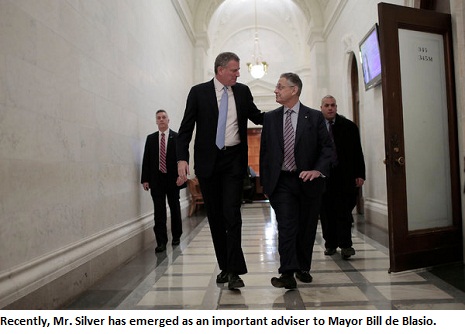 Asked on Thursday about Mr. Silver's indictment, Mr. de Blasio urged New Yorkers to "let the judicial process play out."
Mr. Cuomo, for his part, may also need to recalculate rapidly.
Hours before Mr. Silver was taken into custody, Mr. Cuomo, a fellow Democrat, unreeled an ambitious social justice agenda in his State of the State address, a headline-grabbing turn for a governor who prides himself on centrism.
It was a signal moment for Mr. Cuomo, who was embracing the start of a new four-year term and eager to put the troubles of last year, including a bumpy re-election campaign and a string of ethics concerns, behind him.
Instead, the speech was mostly forgotten by Thursday morning, with Mr. Silver's arrest plunging the governor back into the ethical morass from which he had hoped to escape.
As night fell on the capital, some political operatives said they would not tear up their legislative playbooks until Mr. Silver's fate became clear.
So far, few Assembly Democrats have publicly asked Mr. Silver to resign. "We have every confidence that the speaker is going to continue to fill his role with distinction," Joseph D. Morelle, the Assembly majority leader, said after an hourlong private conference with his caucus.
But a dissenting voice came from Assemblyman Michael P. Kearns, a Democrat from the Buffalo area who does not caucus with his party. Mr. Kearns said the speaker should step down.
Asked who might replace Mr. Silver, Mr. Kearns was blunt.
"Anyone," he said, "who is not under indictment."
More about: