The crowd erupted in cheers as Obama and his wife Michelle emerged from an armored limousine and took their place on the rain-soaked parade route in the capital, New Delhi.
The parade was the centerpiece of Obama`s three-day visit to India, aimed at strengthening a relationship between the world`s largest democracies.
The Republic Day celebrations mark the anniversary of India`s constitution, which came into force in 1950, after the country gained independence from Britain in 1947.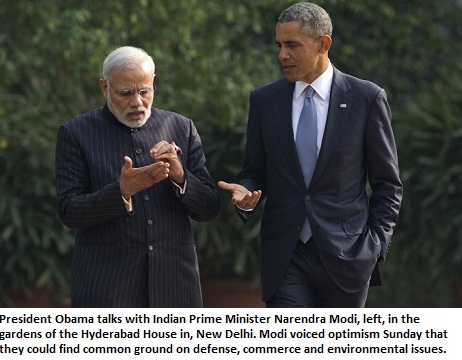 President Obama talks with Indian Prime Minister Narendra
"This is a very symbolically significant event — it`s the biggest invitation India has to offer to a foreign head of state and in the past India has been wary of inviting the United States given that the two countries have not always had the warmest of relationships," said Sanjay Kumar, a political scientist at the Center for the Study of Developing Societies in New Delhi.
As Obama arrived in India on Sunday, Prime Minister Narendra Modi broke protocol to personally welcome him with a hug as he disembarked from Air Force One in New Delhi.
The two leaders said Sunday that they reached "a breakthrough understanding" in freeing up U.S. investment in nuclear energy development in India.
Picking up from a stalled 2008 civil nuclear agreement between the two countries, the deal would allow U.S. firms to invest in energy in India. It also resolves a dispute over U.S. insistence on tracking fissile material it supplies to the country and over Indian liability provisions that have discouraged U.S. firms from capitalizing on the agreement.
Obama and Modi also pledged to enhance the U.S.and India`s cooperation on climate change and clean energy.
The warmth of this relationship between the two leaders — which was on display on Modi`s September visit to the USA — has been a source of surprise in both countries.
Modi was banned from the USA for almost a decade over his alleged role in permitting the massacre of 2,000 Muslims when he was the governor of Gujarat in 2002. Obama lifted the ban last year after Modi took office, and the September visit began warming up ties that had been strained for years.
Several American business leaders were joining Obama in New Delhi, including the chief executives of Disney, PepsiCo and Marriott. They were to join Indian executives at a business leaders` summit later Monday.
Obama is cutting his trip short to go to Saudi Arabia on Tuesday to pay respect to the royal family following the death of King Abdullah. In doing so, the White House had to cancel a tour by the president and first lady of the Taj Mahal, the famed white marble monument to love in the city of Agra.
More about: