"It's an armor-plated rally and it won't stop," Peter Kinsella, a London-based senior foreign exchange and rates strategist at Commonwealth Bank of Australia, wrote in a note. "Everything speaks in favor of further EUR appreciation -- increasing portfolio inflows, changing monetary policy, improved political risks."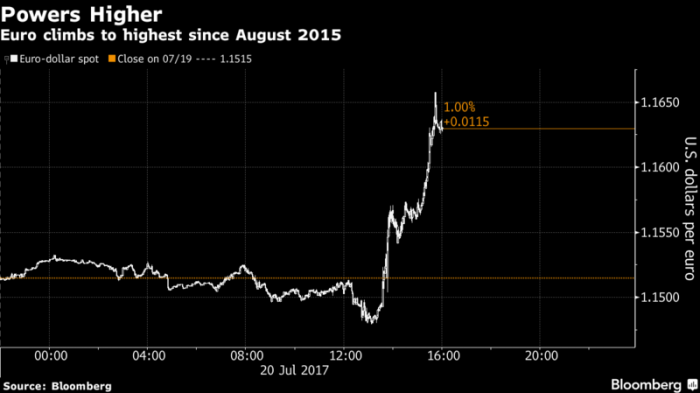 Increased hawkishness from the central bank, spurred by Draghi saying that reflationary forces had replaced deflationary ones on the continent, has helped the euro rally from lows last seen near the start of the millennium. Investors expect the ECB to start tapering in the new year and are pricing in a 10 basis point rate hike by September 2018.
At the same time, political risks have largely dissipated. The victory of market-friendly Emmanuel Macron in France allayed fears after a populist wave swept through the
European Union
following the Brexit vote and the election of Donald Trump as president of the U.S. Economic growth has also picked up, helping to buoy investor prospects.
The euro broke through $1.16 after Draghi said that the currency's recent re-pricing had received "some attention," without specifically saying he was concerned about its strength, at the press conference following July's ECB decision. That reference helped boost the shared currency, while European bonds rallied following the meeting led by those of Spain and Portugal.
"Mario Draghi today, essentially did not push back on the market pricing, which was the key point," said Jordan Rochester, foreign-exchange strategist at Nomura International in London. "The Fed was moving more aggressively in terms of their monetary policy while other banks were still easing. All that's come into reverse now," he added, referring to the Federal Reserve's recent rate hikes.
The euro advanced as much as 1.2 percent to $1.1658 in London, the highest since August 2015. The currency has advanced more than 10 percent this year, partly on speculation that a tapering of bond purchases is drawing closer.
Nomura currently forecasts the euro at $1.15 by the end of the year. "In the short-term we're overshooting and I wouldn't fight it," Rochester said.
For some analysts, the only thing that can stop a prolonged euro surge is events on the other side of the Atlantic. That could come as U.S. tax reform in the second half of the year after investors have pared expectations following stalled progress on repealing Obamacare, according to Rochester.
"One factor that might stop the euro rally from here is a repricing of expectations for the Federal Reserve," said Andrew Cormack, a London-based money manager at Western Asset Global Management. "There is so little priced for the Fed now any upside surprise in the data could see this reverse."
More about: #Eurozone