"East meets West. Throughout history, many places claimed to be the space of this momentous exchange. Few have more merit than the nation of Azerbaijan and its capital Baku.
Earliest recorded delineation by ancient Greek geographer Anaximander marked the Kura River as the conceptual border in 6th century BC. Kura still carries its waters into the Caspian Sea south of the city. Contemporary cultural fault lines pass through here as well.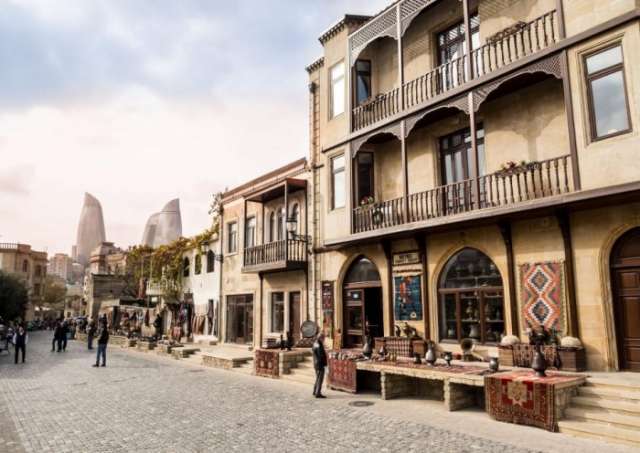 Old Town of Baku, Azerbaijan
Baku has hosted the massively popular Eurovision Song Contest in 2012 and the inaugural European Games organized by the European Olympic Committee in 2015. This year it welcomed athletes from fifty-six Middle Eastern, Asian and African countries for the Islamic Solidarity Games. To keep the momentum going, Formula One race, Azerbaijan Fashion Week and Nowruz Festival are among top projects competing to draw over two million visitors to Baku.
Fuad Naghiyev, director of the recently launched National Tourism Promotion Bureau, is quick to point out that Azerbaijan has simplified the visa regime for 90+ countries: "Now you can apply and get a visa online in just under 3 hours!" This bodes well for the generation of digital nomads and the statistics already show a 25% increase in applications!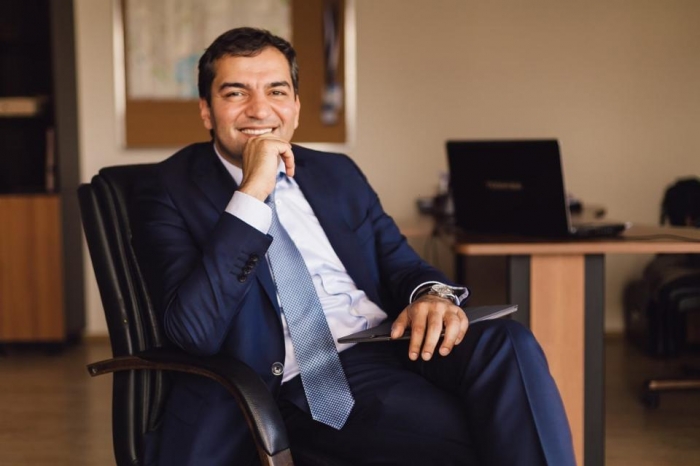 Fuad Naghiyev, director of the recently launched Azerbaijan's National Tourism Promotion Bureau
A quick pre-trip survey of colleagues and friends suggested contemporary artist Faig Ahmed as the best-known product of Azerbaijan's cultural diplomacy. In recent years his disappearing and pixelating carpets have become a recognizable fixture in the art world. Interest in innovative textiles, upgrading artisan craftsmanship and interpretation of traditional visual elements are some of the foundations for activities that could lure foreign tourists.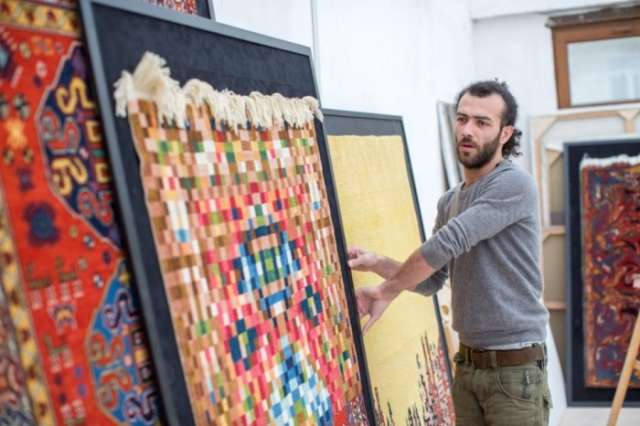 Internationally renowned artist Faig Ahmed with his creation

While local artists are gaining international attention, so does the city of Baku itself. It is only the third destination in the world to host the Formula One city track race after Monaco and Singapore. Due to its urban geography, it brought speed back to the F1 spectacle: a new record of 378 km/h (235 mph)! This partnership is steeped in automotive and geopolitical history. Baku's fortunes are tied to oil. Azeri oil production was well-documented even by the legendary traveler Marco Polo himself. At the start of the 20th century, half the world's oil supply was coming from here. In 1901, eleven imported cars shared the roads of Baku, an incredible number given its context. Since country's independence in 1991, historic investments and discovery of large gas reserves positioned Azerbaijan as a global fossil fuel pioneer again. Formula One is a multi-billion-dollar enterprise and some of its power is poised for crossover. Baku and F1 became a perfect match.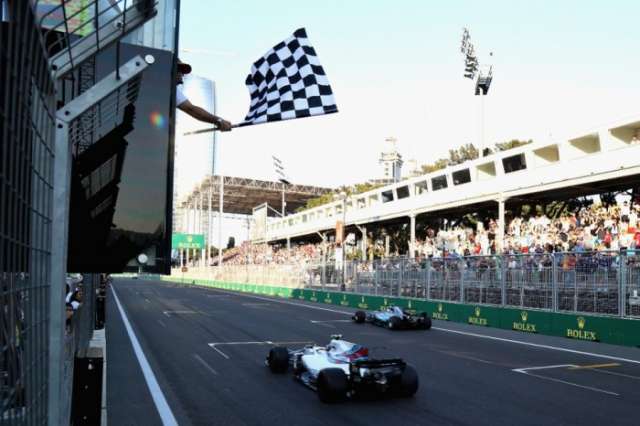 BAKU, AZERBAIJAN - JUNE 25: Second place finisher Valtteri Bottas driving the (77) Mercedes AMG Petronas F1 Team Mercedes F1 WO8 crosses the line ahead of third placed Lance Stroll of Canada driving the (18) Williams Martini Racing Williams FW40 Mercedes during the Azerbaijan Formula One Grand Prix at Baku City Circuit on June 25, 2017 in Baku, Azerbaijan. (Photo by Mark Thompson/Getty Images)

Arif Rahimov, the executive director of Baku City Circuit, reflects on the economic impact of the race on the city: "Aside from tourism, this project creates about 5,000 short and medium-term staffing positions, before all the Formula One delegations and teams even get here. This is great for the local labor market beyond hospitality!" To be exact, 71,541 fans from 57 countries have attended this year's edition of the race. The legendary McLaren driver Fernando Alonso helped generate publicity as the official event ambassador. It helps that ticket prices are the most democratic on the circuit, starting at just about $30.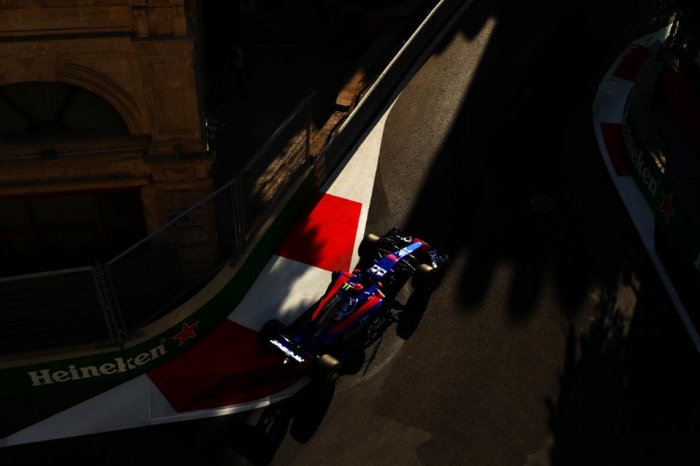 BAKU, AZERBAIJAN - JUNE 25: Carlos Sainz of Spain drives the (55) Scuderia Toro Rosso STR12 during the Azerbaijan Formula One Grand Prix at Baku City Circuit on June 25, 2017 in Baku, Azerbaijan. (Photo by Dan Istitene/Getty Images)

However, it is the premium segment that drives hospitality sector growth in Azerbaijan. Nowhere are the changes and challenges more evident than at the Fairmont Flame Towers Baku, a five-star hotel inside the iconic architectural complex that has come to define the city skyline and nation's new-found confidence. General manager Mathieu Greppo notes that this is no "entry-level five-star experience". With his 20+ years of managing luxury properties, he'd know. So, what's the level then? "Presidents, Sheiks, Mariah Carey," laughs Greppo.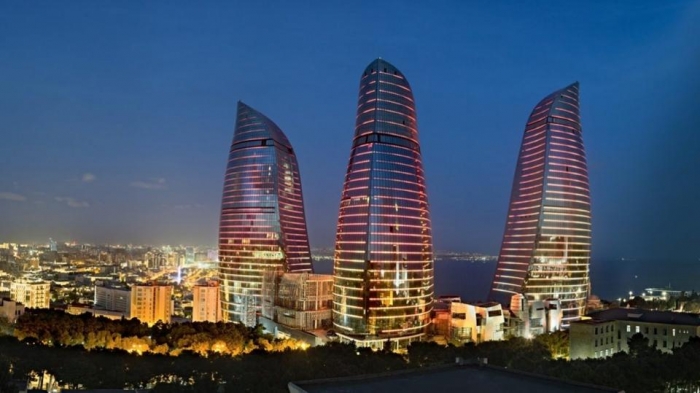 Fairmont Baku is located inside the iconic Flame Towers

Two thirds of the hotel's sprawling rooms face the stunning Caspian Sea (a feature heralded in practically every online review). Even at 90% occupancy, the space is designed to feel private and discreet. There is a $1.5 million chandelier and a $500,000 grand piano in the lobby. "Nothing else!" The rooms are decorated with the expanding collection of 400+ original art pieces from artists across the region. No Faig Ahmed, yet.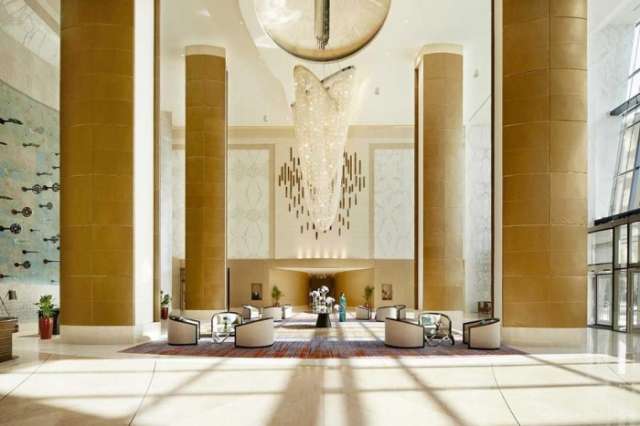 Grand lobby of Fairmont Baku Hotel in Azerbaijan

Fairmont's goal "to exceed expectations" is impressive in a country with an intrinsic cult of hospitality. Perhaps, it is telling that hotel is gradually becoming a top pick for destination weddings for customers from as far as the Gulf states, Russia and India! "It's a landmark not just in the city, but in people's lives," asserts Greppo. Bringing things full circle, the Fairmont Baku has just signed a three-year partnership with Azerbaijan Fashion Week.
"There are amazing events and places to enjoy in Baku, including
UNESCO
World Heritage sites. However, Azerbaijan has nine climatic zones out of twelve possible on Earth! We have the sea, snowy mountains, deep forests and even the steppes. Not a single guest will feel bored year-round!" Fuad Naghiyev of the National Tourism Promotion Bureau is exceedingly optimistic and with good reason.
Like any best kept secret, this treasure of the Caucasus is guarded by the strong word of mouth. Those who have visited the country, tend to encourage others and return with family and friends to re-discover Azerbaijan!"
You can read the original article
HERE
More about: #Azerbaijan #Forbes