- Over 25 years Israel and Azerbaijan have achieved tremendous success in the development of relations between the two countries' peoples beginning from just friendly, warm relations even before the independence of Azerbaijan and ending with strategic, very meaningful relations in many fields. Over those 25 years, we have been able to develop relations in several fields, namely, defence, economy, energy, education, transport, people-to-people relations which are crucially important. I think this is a backbone of the Israel-Azerbaijan relations. We are working hard to further develop air communication between the countries, to enhance cooperation in the field of energy, to find areas we can cooperate to improve economies of both countries. Especially now Azerbaijan is involved in a very ambitious plan to diversify the economy over the last two years. We want to be more involved as opportunities are open. Azerbaijan is very stable in terms of politics. The country has great potential for further development of the economy. So we, government and private sector want to be here.
- By the end of 2018, first Azerbaijani gas will be supplied to Turkey, after that to Europe through the South Gas Corridor project. In one of your interviews, you said that Israel could join this project and negotiations are underway. What is the current situation?

- Indeed nothing has been finalized but we see great potential for further development of the Israel-Azerbaijan relations in the field of energy. The gas sector is really important whenever Israeli gas is to be exported to the Turkish market or supplied via
TANAP
(Trans-Anatolian Natural Gas Pipeline).
TANAP
has a great potential for us. Israel has discovered a quite substantial volume of gas offshore and the country's government has made a decision about the export of some volume of gas. Many EU countries are considered a very good market for gas export and
TANAP
is obviously one of the ways to supply gas to Europe. So in this regard, we are in touch with the governmental authorities. This is one of the plans but certainly, it is a significant plan.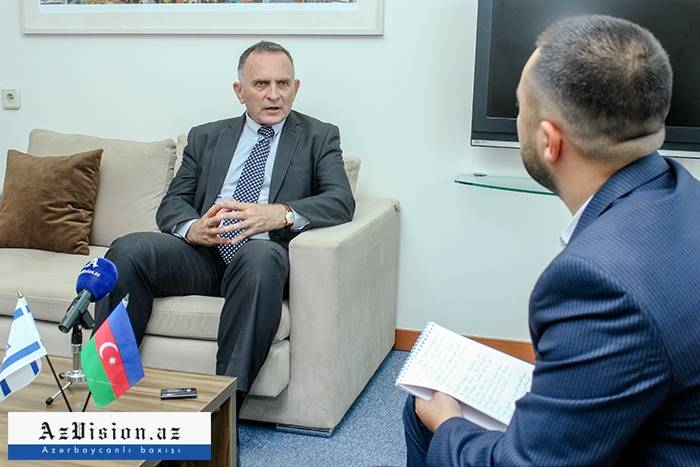 - Azerbaijan has been recently focusing on the non-oil economy. In this context how Israel can help our country?
- Proceeding from the unique history of Israel, the defense sector played a leading role in the development of technologies. Many technologies can be also implemented in the civilian market. Moreover, I think the most obvious sphere in which we can cooperate is agriculture. I know that a number of big and strong Israeli companies in this field are greatly interested not only in selling products here but also having a tie-up with serious counterparts to find ways to cooperate and establish long-term cooperation in one joint project. I think this is very important development as we share our experience and knowledge, however working together on the local market will also stimulate the development of our knowledge and experience. We want to see what kind of Israeli technologies, methods, a way of thinking can be implemented here and if they are implemented obviously, they should be adopted. They should not be just copy-paste. If you want to get maximum results, you have to do the certain adaptation. Another field in which we are working is tourism. Since October 2, IsrAir has launched flights to Azerbaijan and I think that the most important thing is not just ticket sale. The visit of Israeli tourists is good for the economy. Moreover, it is the very modest start. The flight is operated twice a week. Passenger turnover is a few hundred people but I hope the number of passengers will increase in the coming months. The most importing thing is tourists. Besides contributing to the tourism sector, they also discover real Azerbaijan. There is no Azerbaijani embassy in Israel. So Israelis know little about Azerbaijan. So this is an opportunity for them to see Baku. In addition, people-to-people ties are established here. Proceeding from the conversations that I had with a few Israelis here, they are deeply impressed by modest Azerbaijan. They knew nothing about Azerbaijan and when they came here, they just say wow Baku is so developed, so interesting. The cultures, heritages, religions mixed here. It is so safe to walk here. It is the country with a Muslim population but we do not feel threat, everything is so free. So this is an eye-opener for them. Another area in which we are working hard is to establish ties between Israel and Azerbaijan in the field of high education. We have a number of very good universities, very good expertise. We are trying to establish ties between Israeli universities and Azerbaijani leading Academic institutions in order to cooperate rather than just to show the cooperation, in particular, sustainable cooperation. Moreover, there are plans to convene joint government commission between Israel and Azerbaijan. This commission headed by Mr Jabbarov, Azerbaijani education minister and Mr Elkin, Israeli minister of environmental protection. The idea is to exert all efforts and prioritize them in order to establish a clear agenda and prepare the most conducive environment for the privet sector to go in order to develop relations between two countries.
- What is the position of Israel on Armenia-Azerbaijan Nagorno-Karabakh conflict?
- Israel has always supported the peaceful resolution of the conflict. The reason is our best experience. We are involved in many wars with neighbouring countries. Peace is the only way to find the sustainable and durable resolution of conflict. It saves many human lives, it saves many resources that you can direct into more productive areas. Once we signed a peace agreement with Egypt and Jordan we found out that strategic situation of Israel has greatly improved. Therefore, we think that the priority should be given to be the peaceful settlement of conflicts. In this regard, we greatly encourage the recent statements made by Azerbaijani President
Ilham Aliyev
about his priority to find a peaceful solution to the conflict. In this regard, we also support the
OSCE
Minsk Group Co-Chairs' efforts to assist in the conflict settlement. We also welcome the recent meeting between the presidents Azerbaijan and Armenia. We hope that whenever the sides will come to the agreement, it will serve to the further progress in the conflict settlement. It mainly concerns the plans for creating working meetings between Azerbaijani and Armenian foreign ministers. Of course, this is up to the sides what final solution will be to the conflict but I want to add that Israel supports the territorial integrity of Azerbaijan.
- Despite Israel and Azerbaijan have rather good relations; Azerbaijan does not have the embassy in Tel-Aviv. In your opinion what is the reason?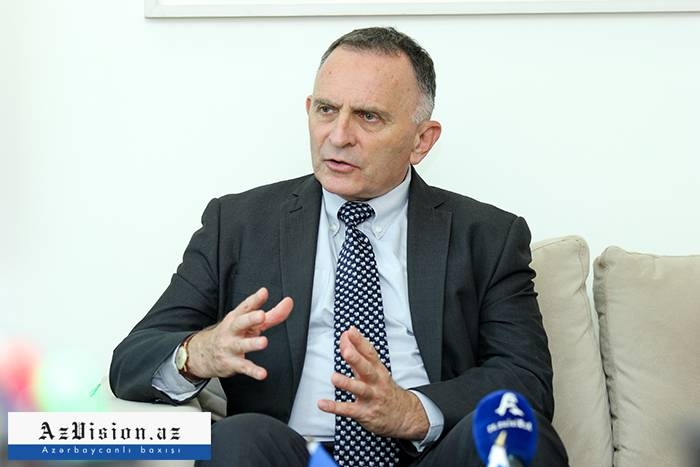 - I'm not in the position to tell you what the problem is because this is the decision of Azerbaijani government. I think that this decision should be referred to the Azerbaijani authorities. Obviously, we would welcome the opening of the Azerbaijani embassy in Israel. I reiterate that this is the decision of the Azerbaijani government. This embassy is going to be very active in further promoting bilateral relations between the countries.
- In early October U.S. President Donald Trump announced that his country can leave 5+1 nuclear agreement with Iran. What is Israel's position on this issue?

- Israeli Prime Minister
Benjamin Netanyahu
reiterated even before the agreement was signed that the agreement was not good. We are not against the agreement with Iran but it should be the agreement guarantying that Iran would never possess a nuclear weapon. This agreement does not guarantee it. In addition, after the expiration of this agreement, Iran is free to do what it wants. Also within the agreement, there are a number of problems with monitoring military facilities of Iran. U.S. president Trump decided to leave this agreement. Prime Minister Netanyahu clearly said that he supports the US move. We think that if you want this agreement to be in place it should serve one purpose, namely, Iran will not be in a position to possess a nuclear weapon.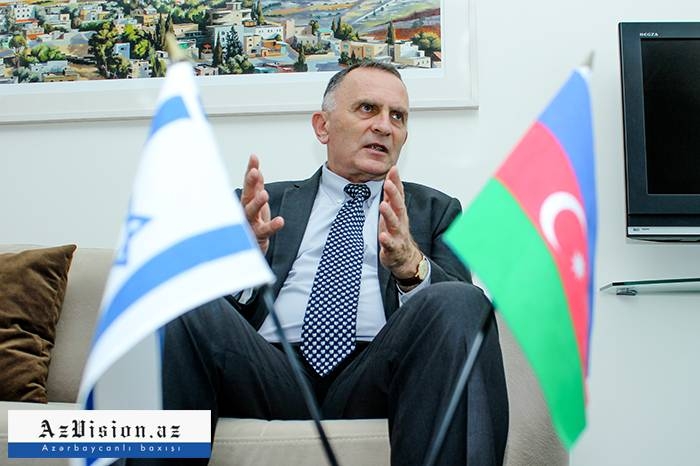 - In your opinion, what is the solution to the Palestine –Israel conflict?
- As for the Armenia–Azerbaijan Nagorno-
Karabakh
conflict, the only way is to resolve this conflict peacefully. Military actions will not help. To achieve that, you need general willingness from both sides to negotiate, to establish the process that will be result oriented. To my great regard, Palestinian side is more interested in having world pressure on Israel, rather than in sitting down and negotiating with Israel. We think that if you want to solve the conflict you should sit together without pre-condition not go to Genève, New York, China, Paris and try to establish a kind of support of international community. After that, we sit in East Asia and it is up to solve this problem. Let's sit together, find the agenda and the acceptable agreement. This is the only way. In order to achieve that you should understand that using the terrorism is not the way to prepare the population for peace.
- Both U.S and Israel have decided to leave UNESCO due to its alleged anti-Israel bias. Does it mean that UNESCO has lost its effectiveness?

- There are a number of U.N organizations that were set to perform very important functions.
UNESCO
was one of them. I think that cultural heritage worldwide is crucially important. Whatever was created by humanity it should be preserved for the future generations. However, unfortunately, Palestinians and their supporters, Arab world are doing everything possible to undermine the professional prudential of
UNESCO
. Politicizing it to an unbearable extent, the organization becomes ineffective. I think we should oppose it. Not only country but any other country should oppose this attempt to use it as a tool for Palestinian propaganda rather than for destination as heritage preservation.
- Ten days ago, Syrian army fired Golan Heights. What can you say about the situation in Syria?

- Obviously, we are concerned with the situation in
Syria
because after all,
Syria
is a neighboring country to Israel. We are very much alarmed from Iran's military activities in Syria, which are part of its expansionist and hegemonic policy. Iran is interested to establish permanent military presence in Syria, tries to provide the Hezbollah, designated terroristic organization with sophisticated missiles and rockets contrary to resolution 1701 of UN Security Council. Moreover, Prime Minister Netanyahu has clearly said that we are against Iranian presidents there. We are not against the settlement in Syria. It is terrible to see hundred thousands of innocent people murdered by Assad regime and his servicemen on the one hand and DAESH and by its supporters on the other hand. Obviously, the political solution will be the only blessing. Again, we are not interfering in Syrian internal affairs. According to our strategic interests, Iran's presence must not be observed in Syria. We will do everything possible to avoid it. We are also greatly concerned because sometimes fights among Syrian army, Hezbollah and rebels are spreading over Golan Heights held by Israel.
We said it clearly. We will not allow this fighting spread over our territory. Whenever mortars are launched in our direction, we are entitled to defend ourselves. We will destroy whoever is shooting us. The third issue is that Iran together with the Syrian regime wants to deliver ballistic missiles to Hezbollah terrorist organization in Lebanon. We are against it, it also against U.N security resolution.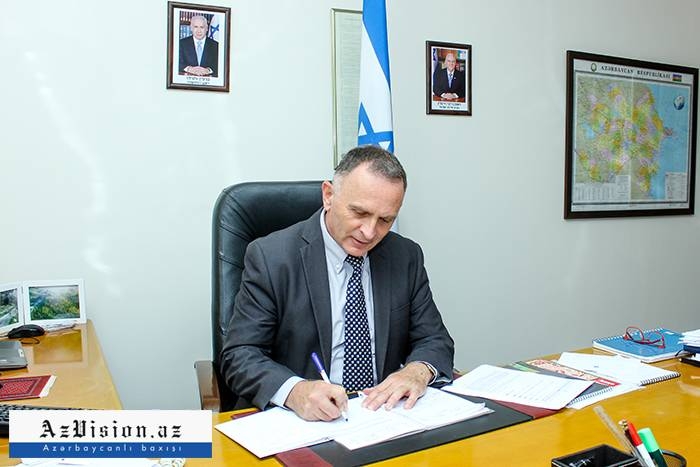 Let's talk about Iraq and Kurdistan. Israel is the first and only country who supports Kurdish referendum and its results. In your opinion, how will this referendum affect the situation in the Middle East and in the world?
- Israel has very long and friendly relations with Kurdish people. There is a lot of sympathy for self-determination of Kurdish autonomy of Iraq. However, Israel was not involved in carrying out of a referendum in Kurdish autonomy. Israel is not interfering in this process. There are many dilemmas here. Why do not the Kurds have the right for self-determination but Palestinians have. We think about hypothetical situation. What will happen if Kurdish autonomy gets independence? It is hard to predict.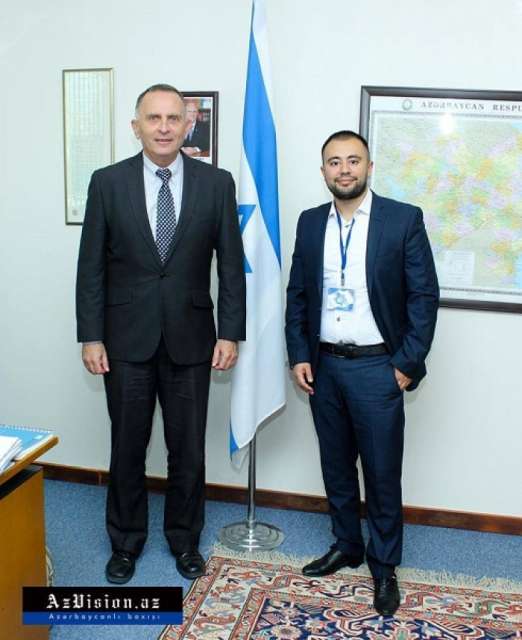 - Let's talk about official visits in the near future.
- The most important planned visit is Mr Jabbarov's visit to Israel as part of the joint governmental commission. The date has not been set yet. Both sides are greatly encouraged with seriousness showed by the Azerbaijani side in the preparation for the committee because committee can be convened once a year. So we want the conference to be effective. Therefore, we are not in the position to say a date. When the document is prepared, we will have a date and set the date for this conference. I hope that it will be convened either at the end of this year or first quarter of 2018.
- You have been serving as Israeli ambassador to Azerbaijan more than two years. What can you say about our country?

- Earlier, I worked in South Asia, namely, in Nepal and India. This area in South Asia was very fascinating. I was working in this region over the 17 years before I moved to Azerbaijan. I found it very interesting. Azerbaijan is a new experience. I am very impressed what I see here. Azerbaijan is located like Israel on historical trade road. It has benefits and has a drawback. The benefits are obviously that you can profit from being on trade road. On the other hand, you generate appetite of big powers to capture your land and control you. Therefore, both Israel and Azerbaijan in this regard have to live in strategic and challenging environment. As for me it was very interesting how Azerbaijan managed it stay located between big powers, conflict with the Armenia. Another thing, which I found very interesting, you are involved in a war, conflict with the neighbor. What do you do? Can you continue to maintain your defense level and at the same time develop? This is the formula what we adapted to Israel. We were able to build a country from scratches despite many wars. Azerbaijan has done the same here. When you visit Baku, you do not feel conflict anywhere. In most of the parts, you see progress, development. The third impression is that there are so many sights that very fascinating because of natural beauty. Ethnic groups are fascinating. Albanian kingdom, Albanian church, beautiful mosques are here. There is fascinating co-existence between ethnic groups. Moreover, I would like to stress peaceful existence between Jews and Azerbaijanis and other minorities from time immemorial, some people argue that it is from the 5th century. Some said that first Jews migrated from Persia to Azerbaijan came to B.C 7 century after destruction in Northern Israel kingdom of that period. So it's fascinating to see how these groups integrated in Azerbaijan. Wherever I go, I hear about the contribution of my Jewish brothers to the economy, culture, education, science in Azerbaijan. So many people tell me that they had Jewish teachers. I remember Jewish actor performing in the theatres. Those who remain here are part of Azerbaijan. They are real patriots of Azerbaijan. You saw that number of Azerbaijani Jews had left Azerbaijan not because that they prosecuted but they want to live with Jewish brothers in Israel. They are serving today as a bridge between Israel and Azerbaijan. The recent example is signing of the agreement between Yokhnem and
Qabala
. I also attended this ceremony. A person behind this process was deputy mayor who was born in Azerbaijan and moved to Israel. Now he is actively promoting people-to-people relations between two countries.
Eldar Tanrıverdiyev
Photos: Elvin Abdulla
AzVision.az
More about: #Israel #Azerbaijan