Experts found the mosaic during an excavation in the ancient Mediterranean coastal city of Ashdod-Yam, now part of the modern city of Ashdod. The discovery, which was made in August, was announced Thursday by the Israel Antiquities Authority.
An inscription in Greek dedicated to the structure's builders offered archaeologists a vital clue. The inscription mentions a date on the ancient Georgian calendar, enabling experts to date the building.
"[By the grace of God (or Christ)], this work was done from the foundation under Procopius, our most saintly and most holy bishop, in the month Dios of the 3rd indiction, year 292" it reads. The year 292 corresponds to 539 A.D. "This is the earliest appearance of the use of the Georgian calendar in the Land of Israel, many years before it was used in Georgia itself," explained Dr. Leah Di Segni of the Hebrew University of Jerusalem, who deciphered the inscription, in a statement.
Experts from the Israel Antiquities Authority, Tel Aviv University, and the University of Gottingen and Leipzig University in Germany also participated in the project.
Ashdod-Yam was an important city during the Byzantine period. Long hidden under sand dunes, the city is now revealing its secrets. "As far as we know, Ashdod is now home to the largest community of Jews of Georgian origin in the world," said Dr. Alexander Fantalkin of Tel Aviv University, Dr. Balbina Bäbler of the University of Göttingen, and Sa'ar Ganor of the Israel Antiquities Authority, in the statement. "Testimony to the presence of the actual Georgians in the Land of Israel as far back as the Byzantine period has been found dozens of kilometers from Ashdod – in Jerusalem and its surroundings. But this is the first time that a Georgian church or monastery has been discovered on the Israeli coast."
The archaeologists note that, according to historical sources, the fifth-century Georgian Prince and Bishop Peter the Iberian lived in Ashdod-Yam.
Archaeologists are now working to raise additional funds to continue their excavation of the site.
The Ashdod-Yam mosaic floor is just the latest fascinating Christian archaeological find in Israel. An ancient Greek inscription, for example, was recently found on a 1,500-year-old mosaic floor near the Damascus Gate in the Old City of Jerusalem. The inscription mentions the Byzantine emperor Justinian, who ruled in the 6th century A.D., and commemorates the building's founding by a priest called Constantine.
In 2015 a 1,500-year-old church was discovered at a Byzantine-era rest stop between Tel Aviv and Jerusalem. In 2014 the remains of another church from the same period were uncovered in southern Israel.
Experts also believe they have found the lost Roman city of Julias, formerly the village of Bethsaida, which was the home of Jesus' apostles Peter, Andrew and Philip.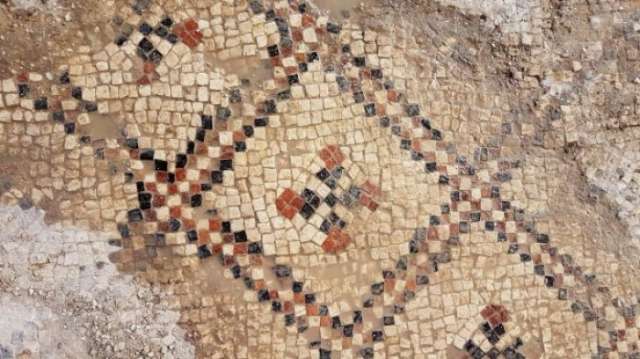 More about: