The document includes adopting decisions on strategic cooperation among the countries, mutual respect for principles such as independence, sovereignty, territorial integrity and inviolability of internationally recognized borders of the states, demanding political solution of conflicts based on the corresponding resolutions of the UN Security Council and developing active cooperation in the fields of defence and security.
The parties reached a conclusion of holding annual tripartite meetings in member countries in an alphabetical order. The next meeting is to be held in Islamabad in 2018.
Note that Azerbaijan pursued previous cooperative relations with both countries separately. Azerbaijan's main problem still remains the occupation of Nagorny
Karabakh
and the adjacent regions, and Turkey and Pakistan have been one of the few countries who expressly support Azerbaijan on all international platforms. Consequently we have been maintaining and safeguarding our military-political relations with these two states since 1992, the very first days of our independence. The geographical location of Turkey, Pakistan and Azerbaijan, their military might, Islamabad's nuclear potential, energy sources of Azerbaijan, transportation corridors and many other factors thrust Baku into the spotlight, which is why the tripartite format is not an accidental choice. Bringing the countries that we have bilateral cooperation ties with together into a multilateral format will correspond to the interests of all three parties. The Baku Declaration adopted during the meeting might serve as a guiding map for future cooperation.
Unresolved conflicts pose a serious threat for the stability and security of the region. Azerbaijan, Turkey and Pakistan demonstrate a shared position on certain issues and act as allies in military issues, which is very important because Pakistan is the only country that owns a nuclear weapon in the Muslim world. Indisputably the three countries will build close cooperation ties in military sphere.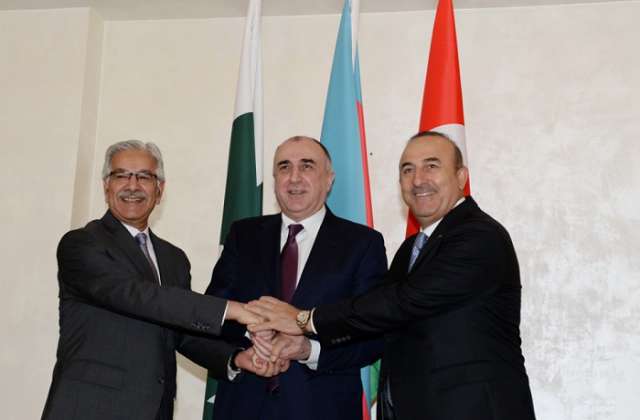 Azerbaijan cooperates with Turkey, Iran, Georgia, Russia, Kazakhstan and other countries in such format in various fields and these relations are regulated with different agreements. The fact that Pakistan, who we cooperate with in military field only, is joining this format might be a foundation for a new power center to rise. This concept will not seem groundless if we are to analyze these countries from a military might point of view.
Although Turkic and Muslim countries historically called themselves friend and brother states, they were not able to really or fully express this in a political-military aspect. Time and again they had carried out cooperation projects in numerous formats. For example, the
Organization of Islamic Cooperation
was founded in Rabat, Morocco, in 1969 at a conference of heads of state and government of Muslim countries. It now includes around 60 states.
Another such organization is the D-8, the Conference on Cooperation for Development organized in Istanbul on 22 October 1996 with the participation of Bangladesh, Egypt, Indonesia, Iran, Malaysia, Nigeria and Pakistan upon the initiative of the Prime Minister of Turkey, Nejmettin Erbakan. The D-8 was officially established by the Summit of Heads of State/Government on 15 June 1997 under Turkey's moderation. The latest summit was also held under the moderation of Rejep Tayyib Erdogan, President of Turkey, in 2017.
TURKSOY was established in 1993 with the participation of Azerbaijan, Kazakhstan, Kyrgyzstan, Turkey and Turkmenistan. Later the republics of Gagauzia, Northern Cyprus, Tatarstan, Tuva, Altai, Khakassia and Sakha also joined this organization. In 2015 Vladimir Medinsky, the Russian Minister of Culture, sent a telegram to the heads of republics, belonging to Russia, to immediately quit the organization. All the Russian subjects left the organization with an exception of Tatarstan.
The Parliament Assembly of Turkish speaking states, the TURKPA, was established in 2008 with a plenary meeting in Baku in 2009. The secretariat of the organization is also located in Baku. The secretariat includes the Chief Secretary, his/her deputies from Turkey and Kazakhstan and an expert group. The members of the organization are Azerbaijan, Turkey, Kazakhstan and Kyrgyzstan. These organization still function, but do not possess a real power of influence.
None of these joint projects have until now managed to become a coalition with fully fledged military, political and economic mechanisms.
These three countries among all these states have passed the tests of friendship and true companionship numerous times. The fact that they are now united in a single format is sourced by the constant regional and global changes in the region.
Turkey battles PKK on the borders with
Syria
and Iraq, Azerbaijan fights against Armenian occupation in Nagorny
Karabakh
, whereas Pakistan struggles against India in Kashmir. The fact that these three brother states share similar problems is one of the main reasons behind their military, political and economic unity. The newly established coalition will allow these three states to battle the existing threats more efficiently. This concept is quite grounded and there is a possibility that other states might join this coalition in the future.
The first measures to be taken are to develop a common military doctrine and sign agreements on military-strategic cooperation and military support.
Military Expert Adalat Verdiyev
More about: #Azerbaijan #Turkey #Pakistan