Why did I go to Baku?
The better question is why didn't I go to Baku? I was already traveling in Moscow, Russia at the time, and it made logical sense to hop on the 3 hour, $175 flight down to Azerbaijan.  It sounded like a fun idea.
Also, as many of you already know, I am planning to visit every country in the world. Azerbaijan was my last country in the Caucasus region, and it happened to be my 100th country overall!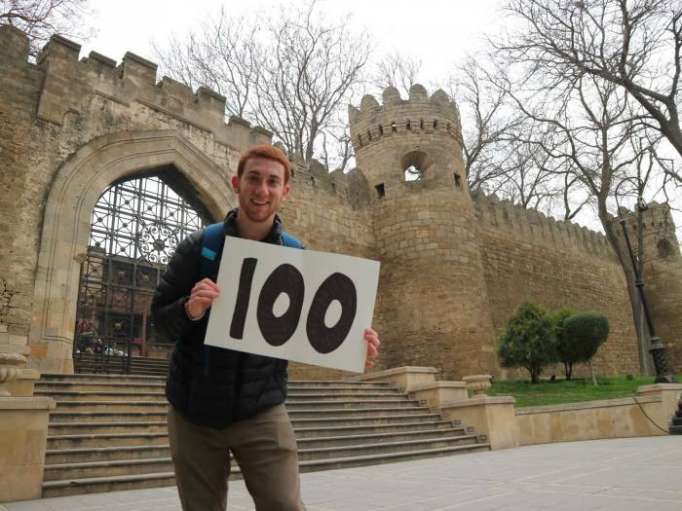 I arrived at Baku International Airport without a clue for what to expect.  I had no friends or connections in Baku, and I hardly met anyone who had been there.  I didn't do any research (as per usual), because I wanted everything to be a surprise.
I headed to the nearest ATM, took out a bunch of Azerbaijani Manats, jumped in an Uber with my camera in hand, and I was on my way to explore!
First Impressions of Baku
I quickly noticed that Baku is a giant mix of cultures.   The country of Azerbaijan lies at the cross roads of Europe, Asia and the Middle East, and therefore, it has influences from each region in regards to cuisine, religion, culture, etc.
It's a really cool feeling to walk around a completely foreign land, with fresh eyes and no plan whatsoever.  I recommend trying it if you haven't done it before!!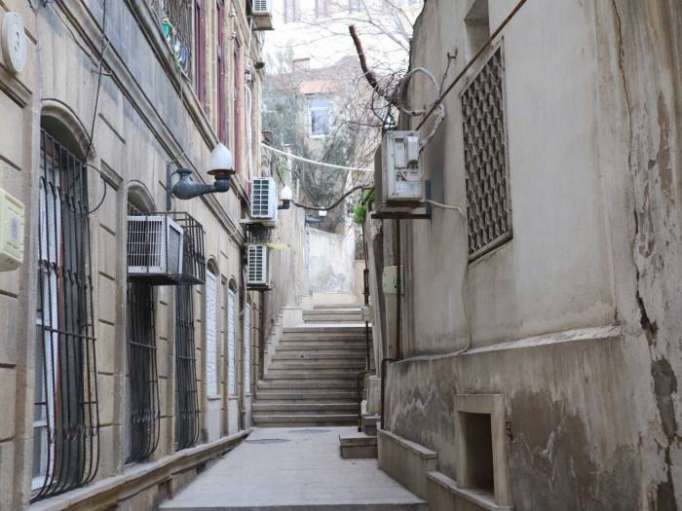 I noticed right off the bat that Baku resembled both the old and the new. The old feeling came from the ancient Old City, which is surrounded by massive brick walls on all sides.  And the new came from the modern skyline (hello Flame Towers!) and various urban attractions around the city.   Lots of oil money has contributed to a fast-developing economy which seems to be growing by the day.
Also, the food was fantastic – lots of kebabs, tea, vegetables, meat and flat bread.   I was loving life!
What to do in Baku?
Some people consider Baku a "mini Dubai" in regards to all of the tourist attractions around town. There are many things to do that will keep you busy and entertained, and the city is rapidly expanding.
Here were some of my favourites things to do in Baku:
Walk Around the Old City – If you only have time to do 1 thing to do in Baku, then spend it by walking around the charming Old City. Inside this area, you'll find cobblestone streets, narrow winding alleys, boutique houses, and tons of local shops, cafes & restaurants.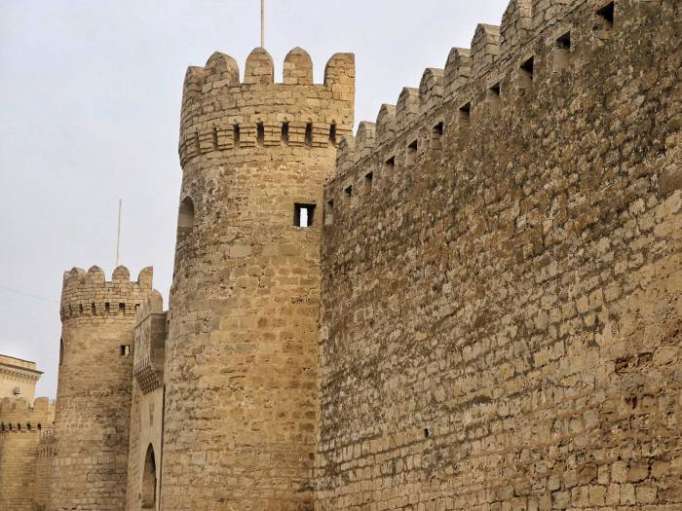 Go up the Flame Towers – The flame towers are the most iconic structure of the city, and some of the most modern buildings in the Caucasus region. The three buildings are identical in size and appearance, and worth a visit! You can take the cable car up the mountain to the base of the towers, and then pay a fee to go to the observatory deck. The views are amazing!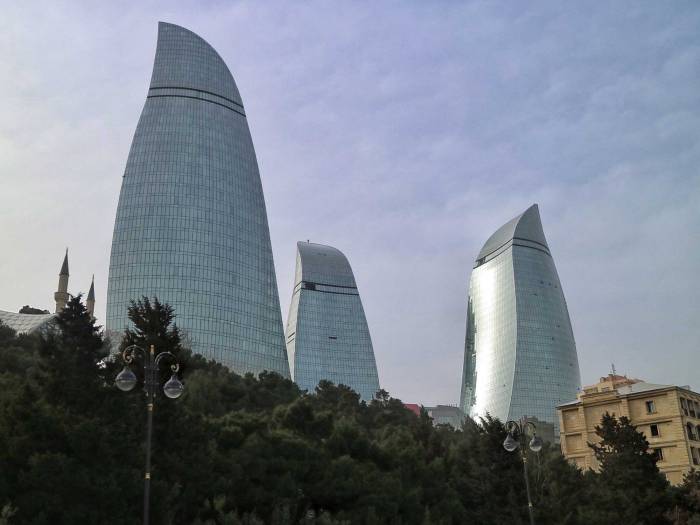 Visit the Heydar Aliyev Center Museum – Probably my favorite experience in Baku was chilling in the park outside this funky, modern buildings and enjoying the Azeri atmosphere. The museum was build by the famous Iraqi-British female architect named Zaha Hadid, and it's very futuristic-looking!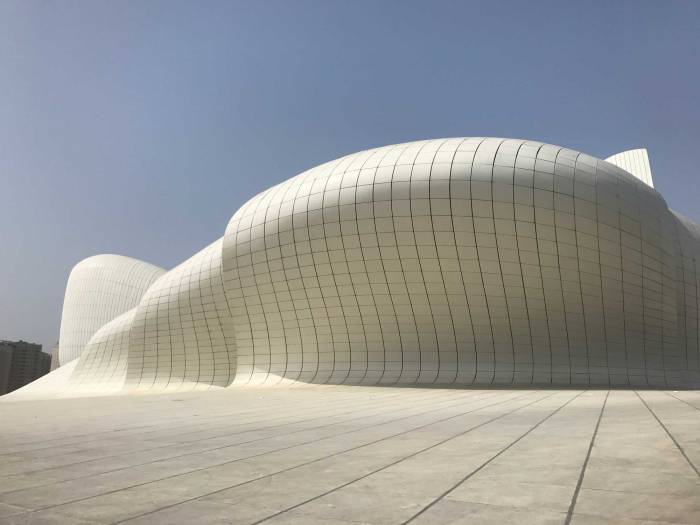 Stroll Along the Caspian Sea Boardwalk – The Caspian Sea is a massive lake, or more like an ocean, that is adjacent to the city of Baku. There is an extra long street that you can walk down, with loads of cafes, bars, restaurants, concert venues, parks and great views of downtown.
Tour the Formula 1 Tracks – if you love NASCAR and/or car racing is your thing, then you must pay a visit to the rack tracks of one of the world's most prestigious events.
Eat Your Face Off – A visit to Baku isn't complete until you've tried the local cuisine.  It has a lot in common with Iranian and Turkish food — kebabs, salads, flat bread, hummus, fresh fruits & vegetables, etc.  My favorite Azeri treat was drinking tea with strawberry jam (it's a thing in Azerbaijan and it's amazing!)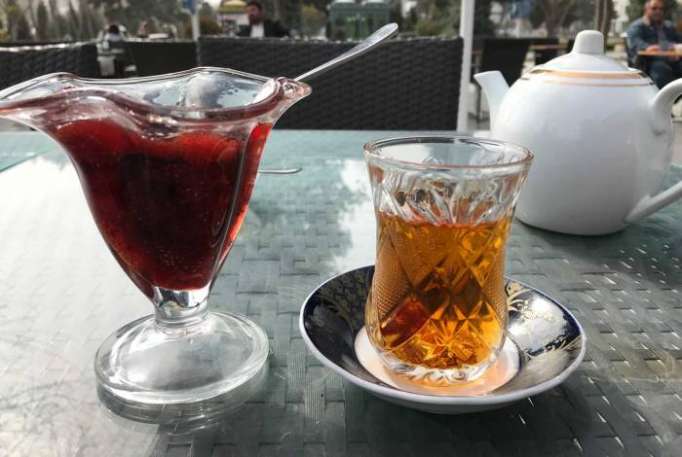 Final Words
I really enjoyed my short visit to Baku and I hope to be back sometime soon!   I can only imagine how much more advanced the country will be the next time I visit with more skyscrapers and futuristic attractions. If you have any questions about traveling to Azerbaijan, don't hesitate to contact me and I'll do my best to get back to you!
Drew Binsky is a graduate from The University of Wisconsin-Madison, Drew Binsky has visited 120+ Countries since 2012.He first caught the travel bug while studying abroad in Prague, then taught English in Korea, and now he's on a mission to visit every country on earth.
More about: Azerbaijan