EU-Azerbaijan partnership priorities have been initialed, Head of Political, Economics and Press and Information Section of the EU Delegation to Azerbaijan Denis Daniilidis told reporters.
The document was signed in Brussels by Azerbaijan's Foreign Minister Elmar Mammadyarov and High Representative of the European Union for Foreign Affairs and Security Policy and Vice-President of the European Commission Federica Mogherini.
"The Partnership Priorities represent an important step forward in EU-Azerbaijan relations, given that they set the joint policy priorities that will guide and enhance our partnership over the coming years," said a message on the website of the European External Action Service.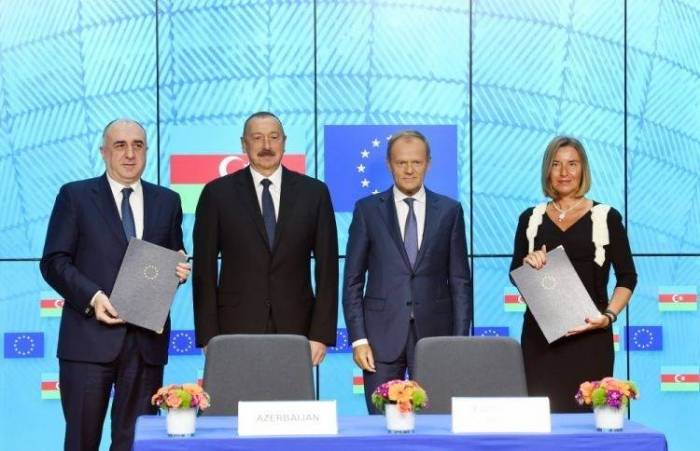 While also staying true to the principle of differentiation in the EU's relations with the countries in its eastern neighbourhood, the four main areas of cooperation under the Partnership Priorities reflect those identified under the Eastern Partnership framework, namely: Strengthening institutions and good governance; Economic development and market opportunities; Connectivity, energy efficiency, environment and climate action; Mobility and people-to-people contacts, said the message.
The Partnership Priorities will also provide the policy framework for our financial cooperation for 2018-2020.
Through the Partnership Priorities, the EU and Azerbaijan renew their commitment to an ambitious and comprehensive agenda. The agenda will reflect the values and principles of the European Neighbourhood Policy, including respect for human rights, democracy, the rule of law, and dialogue with civil society.
"Together with the ongoing negotiations for a new bilateral agreement, the conclusion of the Partnership Priorities signals a clear intention to enhance the EU-Azerbaijan relationship so as to bring positive results for the benefit of the people of Azerbaijan and the European Union," said the message. 
The Partnership Priorities will now be formally approved by the European Union and Azerbaijan and then adopted.
In November 2016, the EU Council issued a mandate to the European Commission and the High Representative for Foreign Affairs and Security Policy to negotiate on behalf of the EU and its Member States a comprehensive agreement with Azerbaijan.
The new agreement should replace the partnership and cooperation agreement of 1996, which would make it possible to take greater account of the common goals and challenges facing the EU and Azerbaijan today.
The agreement will comply with the principles approved in 2015 in the document of the European Neighborhood Policy and will offer an updated basis for political dialogue and mutually beneficial cooperation between the EU and Azerbaijan.
At present, bilateral relations between the EU and Azerbaijan are regulated on the basis of the partnership and cooperation agreement, which was signed in 1996 and entered into force in 1999.
The new agreement provides for the approximation of Azerbaijan's legislation and procedures to the most important international and trade norms and standards of the EU, which should lead to improved access of Azerbaijani products to the EU markets.
More about: