President Ilham Aliyev greeted President Hassan Rouhani. The presidents posed for photographs.
President Ilham Aliyev said:
- Dear Mr. president, dear friend! Welcome to Azerbaijan! I am very glad that the fraternal country is represented at the Summit of the Non-Aligned Movement at the highest level. Tomorrow, Azerbaijan will chair this important institution. For three years, we will try to adequately defend the interests of participating states at various international events. Of course, your visit is a good opportunity to discuss the bilateral agenda and take measures for further cooperation.
Our ties are based on ancient history and a common culture. Today, these ties are at the highest level. Over the past few years, we have met more than 10 times. Each meeting is of great importance and the instructions given after these meetings are executed. I believe that the relations between the two states are currently at the highest peak.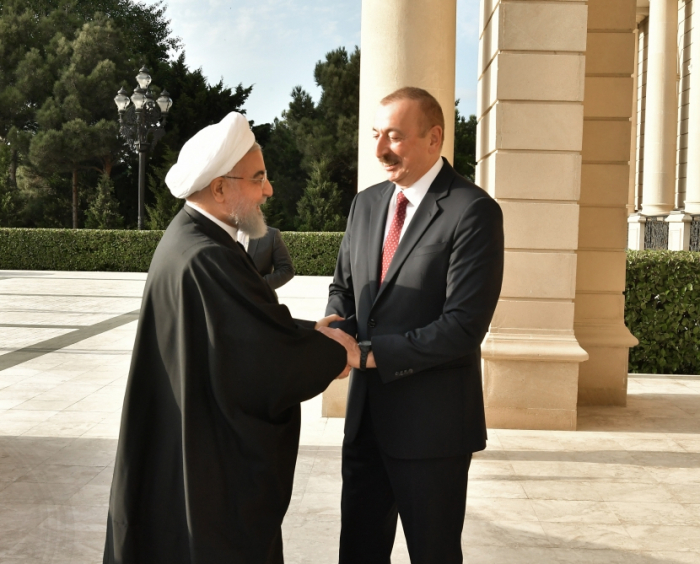 These strong ties have naturally had a positive impact on all areas. Last year, our turnover increased by more than 70 percent. I think that this is a record. In the first nine months of this year, it grew by a further 45 percent. I am glad that the North-South transport corridor we are jointly implementing, is successfully functioning. Last year, eight times more cargo was transported along this corridor. I am told that in the first nine months of this year, freight traffic increased by 70 percent.
As we agreed, the South-West transport corridor is also in operation now. Mutual investments have been made. An automobile plant operates on the basis of Iranian technology. We celebrated its opening together. Currently, design work is under way in relation to the construction of a bus factory. We fruitfully cooperate in the oil and gas sector. At the same time, the determination of the legal status of the Caspian Sea in August last year further strengthens our five-way and bilateral ties. Traditional cultural cooperation is very positive.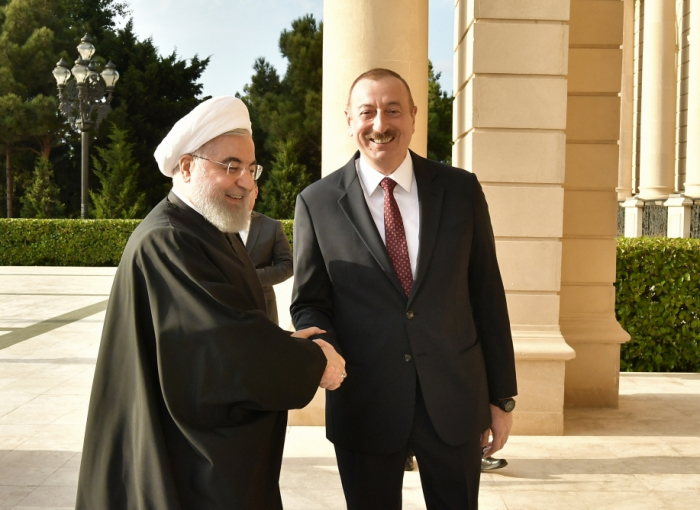 In other words, there is no area we do not cooperate in, and this cooperation is yielding results. They are obvious. I am sure that this meeting will also give a new impetus to our ties. Welcome again!
Х Х Х
President of the Islamic Republic of Iran Hassan Rouhani said:
- Mr. president, we are very pleased to be here today, visiting the Azerbaijani state and the Azerbaijani people. I want to congratulate you on your chairmanship in the Non-Aligned Movement. We are very pleased that excellent organizational work has been done in your country to host this Summit.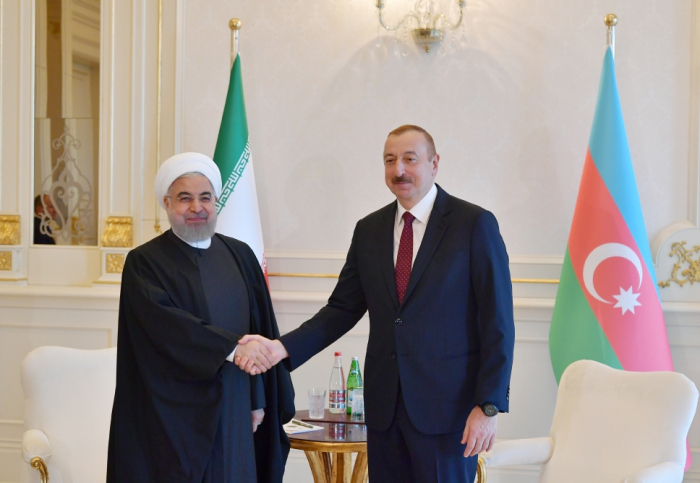 I am very glad that every time we meet, we witness positive phenomena, positive changes in the relations between the two countries. As you noted, our relations have made very good progress in various fields, including the fields of economy, culture, science and other areas. There is excellent economic cooperation to expand the relations between the two countries, and this pleases both states.
I believe that the governments of Azerbaijan and Iran, our states are carrying out fruitful work in the interests of the two countries, to improve the well-being of our peoples, and this is encouraging. I want to assure you that the state and people of Iran have always stood by and will continue to stand by the Azerbaijani state and the Azerbaijani people. I do hope that at today's meeting we will also exchange views on topics of interest to both sides.
President Ilham Aliyev: Thank you!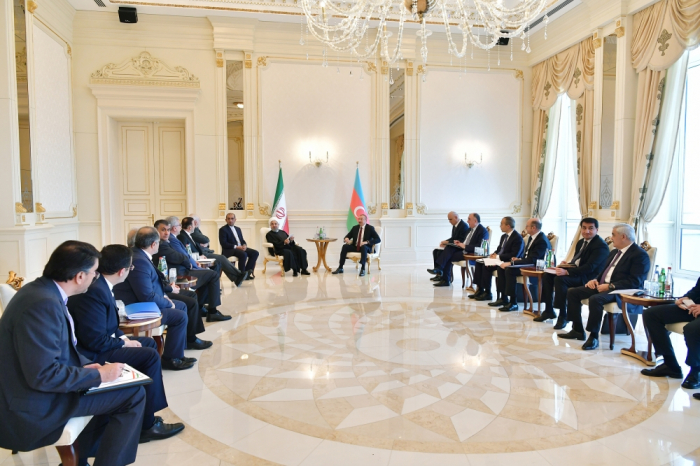 More about: Ilham-Aliyev Azerbaijan Hassan-Rouhani Iran