President of the State Oil Company of Azerbaijan Republic (SOCAR) Rovnag Abdullayev informed the head of state of the work done.
President Ilham Aliyev then inaugurated the main gas pipeline and met with representatives of the city's general public. The head of state made a speech at the meeting.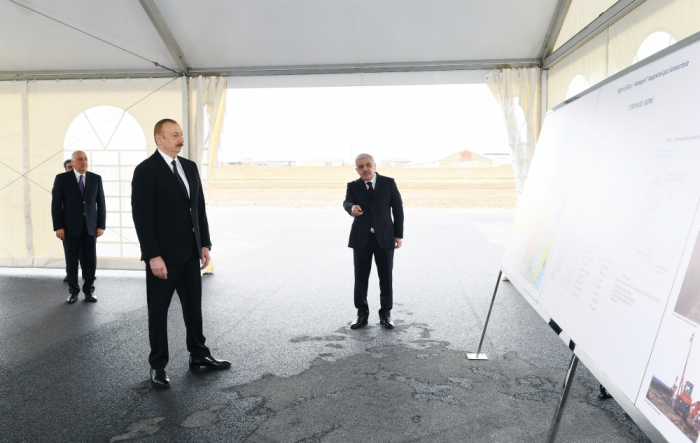 Speech of President of the Republic of Azerbaijan Ilham Aliyev
- It is a very significant day for sustainable gas supply of the city of Sumgayit today. We are celebrating the laying of a new alternative gas line to Sumgayit. I want to congratulate all the residents of Sumgayit on this occasion, because this creates opportunities for the continuous supply of gas to the city and also expands the future potential of the city. So far Sumgayit was provided with gas from one line. Of course, the industrial enterprises established in Sumgayit in recent years, the industrial clusters required additional volumes of gas. With this in mind, the construction of a new gas pipeline was necessary. Its length is 60 kilometers. It was a major construction project. In a short time, this pipeline is being put into operation and is already starting to operate. 
First of all, this is an important step towards providing the population with natural gas. The level of gas supply in Sumgayit is 100 percent. Of course, feeding the city from one line could create some problems and a breakdown could create certain problems. This second line will now meet the growing needs and, at the same time, supply the people of Sumgayit as a back-up project.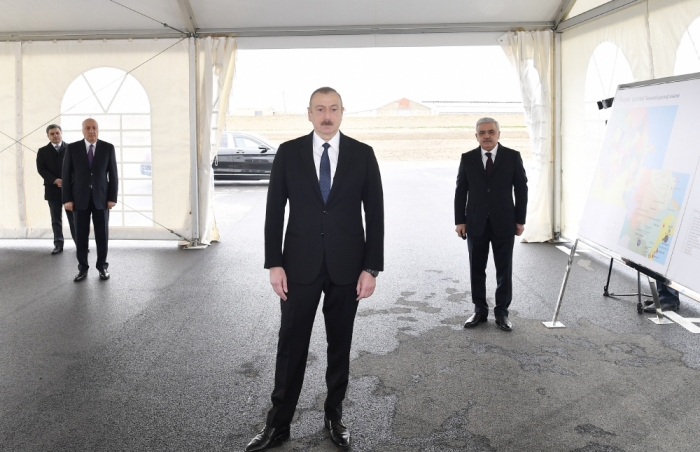 As for the industrial potential of the city, Sumgayit has been developing very successfully in industrial terms in recent years. Many important projects have been implemented here. The Sumgayit Technology Park has been operating here for many years. There are more than 10 plants there. In addition, the Sumgayit Chemical Industry Park was established here. On this vast territory covering hundreds of hectares of land, all infrastructure projects and cleaning work was implemented by the state, ushering both public and private investment there. Currently, the construction of several enterprises is ongoing in the Sumgayit Chemical Industry Park. Among them, the construction of a spinning and dyeing factory deserves a special mention because this is a very important project for our carpet industry. A glass factory is also being built. We import glass from abroad, and the commissioning of the plant will eliminate the dependence on imports.
Two giant industrial enterprises were built in Sumgayit – the polymer and the urea plants considered the flagships of Azerbaijani industry. These enterprises will fully meet domestic needs and also create extensive export opportunities. The significance of these exports is in the fact that they are non-oil exports. And our main goal is to develop the non-oil industry and increase non-oil exports.
I should note that there is a crisis in the world today. It is possible to say that economic relations between countries are somewhat disrupted and economic activity around the world has subsided. Despite this, growth in the non-oil industry in Azerbaijan in three months constitutes 23 percent. A significant part of this has been achieved at the expense of new industrial enterprises. Thus, by creating these enterprises, we provide for domestic needs, eliminate dependence on imports and provide citizens with jobs. Thousands of jobs have already been created in Sumgayit. In recent years, I personally participated in the opening of all industrial and infrastructure facilities in Sumgayit. Over the past 16 years, I have probably visited Sumgayit about 30 times. I take personal interest in the development of the city and keep all issues under control.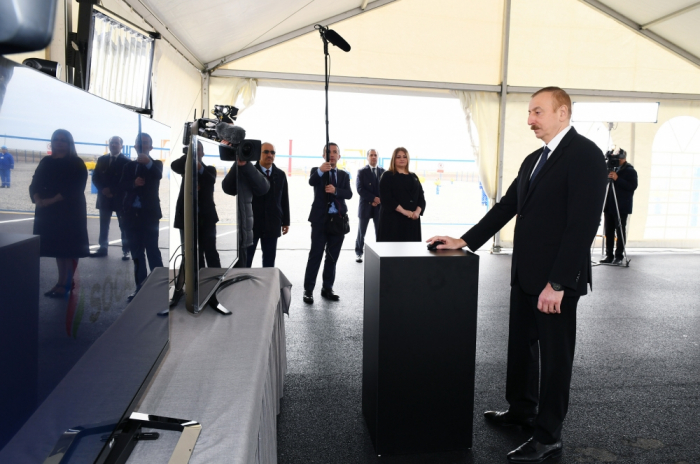 Sumgayit is the second largest industrial city not only in Azerbaijan, but also in the South Caucasus today. It is a modern industrial city. At one time, Sumgayit was built as the center of the chemical industry of the Soviet Union and performed this function. But the people of Sumgayit are well aware that a major blow was dealt to the environment. Sumgayit was a zone of environmental disaster and perhaps one of the most polluted cities of the Soviet Union. Today, Sumgayit is one of the most environmentally clean cities of Azerbaijan because all the new enterprises established here fully comply with environmental standards. Old enterprises have already closed and their premises have been transferred to new industrial parks. Today, clean air in Sumgayit is commonplace. People living in Sumgayit, especially the older generation, remember perfectly well that the environmental situation in the city was deplorable. Those driving through Sumgayit used to roll up their car windows in order not to feel these smells. We have a comprehensive approach to the development of the city. Growth of the city's industrial potential will be maintained in the future too. Therefore, the commissioning of the second gas line meets today's needs and also takes into account the potential of the enterprises that will be built here in the future.
We have great plans. Sumgayit is developing, the population is growing and the industrial potential is strengthening. Sumgayit is indeed one of the very modern industrial cities of the region. At the same time, of course, the city's infrastructure is being upgraded, the city is improving and great opportunities are being created for people. Suffice it to mention the Sumgayit boulevard. An excellent recreation area was created in a short time. Sumgayit today is a city of parks and squares. At the same time, new projects are also being implemented for the IDPs settled here. Currently, a new settlement for internally displaced persons is under construction nearby, and more than 3,000 IDP families will be accommodated there. Thus, the problem of IDPs in Sumgayit will be largely resolved. The IDPs still living in difficult conditions today should know that their turn will also come. We will accommodate every IDP. The most modern conditions are being created for them even though the global economy is in crisis and this negatively affects the economy of Azerbaijan. The price of oil has dropped threefold. But I said this earlier and want to say again for all the citizens to know: we will not stop a single social project, we will not reduce a single social program. Azerbaijan is a social state and our policy is centered on the people of Azerbaijan. Today, during the coronavirus period, our main goal is to protect the Azerbaijani people from this disaster. The decisions we have made and the steps we have taken are appreciated by the country's population. I receive thousands of letters of appreciation. At the same time, international organizations refer to Azerbaijan as an exemplary country in this area. The World Health Organization endorses the work we are doing and openly declares that Azerbaijan is an exemplary country. We were the first country in the world to host a summit on the fight against coronavirus with partner countries. The Summit of the Cooperation Council of Turkic Speaking States in the form of a videoconference was held on our initiative. In the fight against coronavirus, the Azerbaijani people once again saw that our words do not diverge from our deeds. The health and life of our citizens is a paramount issue.
Of course, today's events – I will also visit the newly built settlement for the IDPs – indicate that all our plans remain valid. We will finish this year as planned. Relevant instructions have been given to all agencies and we will plan our expenses based on priority. However, the solution of social issues should always be in the first place.
Given the quarantine regime, we are celebrating this occasion with a limited number of representatives of Sumgayit. I am sure that we will continue to jointly develop the city and create better conditions. Congratulations to you and all the people of Sumgayit.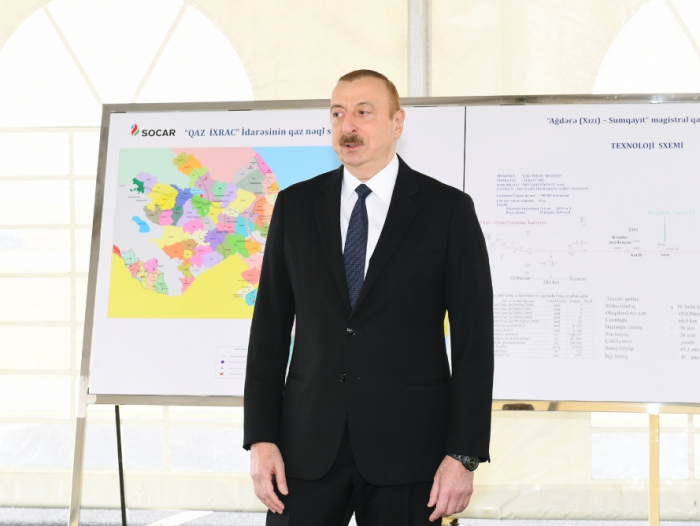 The implementation of infrastructure projects in the city of Sumgayit, of course, was of great importance. Touching upon issues related to electricity recently, I said that 30 power plants have been built in our country over the past 16 years. However, I should also note that the first of them was built on my instructions exactly in Sumgayit. And this is a very large station – with a capacity of 525 megawatts. Without this station, the industrial potential of Sumgayit could not have been developed. It was after the commissioning of this station that the electricity needs of Sumgayit, as well as a growing number of industrial enterprises, were met. 
As far as the provision of water is concerned, Sumgayit is fed from the Shollar water source, and this problem has also been resolved. There are plans to build roads as well. As you know, a project to expand the Baku-Sumgayit road is being implemented on my instructions. I have said that Sumgayit is already somewhat connected to Baku – some people live here but work in Baku, and the other way round. Therefore, traffic jams on these roads required serious measures, of course. Currently, work is under way to expand the road. At the same time, as you know, we celebrated the opening of the Bilgah-Sumgayit road two years ago. This road links Baku and its suburban settlements with Sumgayit. Today, one can reach the suburban settlements of Baku from Sumgayit along the coastal road without stopping in Baku. Therefore, it was necessary to implement all these infrastructure projects. Without them, there could be no talk of any development.
Natural gas is the main source of our energy system because the vast majority of our power plants operate on gas. We want to increase the volume of hydropower plants. We also want to use alternative sources. But natural gas will for many years remain our main source of energy. The major gas projects being implemented in our country today are pursuing this very goal. The launch of the Shah Deniz-2 project and the production of large volumes of gas at the Absheron field next year will continue to provide our gas potential. The population of our country is growing and our industry is developing. Therefore, there must be an adequate source of energy to catch up with this development. Today, modern technology has led to major changes in this area.
In addition, there is the overall improvement of the city. You mentioned the elevators and roofing. As you know, funds are regularly allocated from the President's Contingency Fund for these purposes on my instructions. As far as I know, a significant part of buildings is already covered with roofing.
Head of Sumgayit City Executive Authority Zakir Farajov: Roofing of 1,100 buildings has been repaired. There are 190 left and they will also be repaired. 
President Ilham Aliyev: There are only 190 buildings left, and you will complete this work this year. The same applies to elevators. In addition, there was a request from the executive authority on the purchase of buses for the city's public transportation. We have resolved this issue too. A loan was provided, buses were delivered and they all operate today. Having comprehensively analyzed all the issues of concern to people, we took steps and I can say that we have achieved all our goals. But, of course, life does not stand still. We must transform Sumgayit into a more modern city and, I am sure, we will achieve that. 
Thank you very much, thank you! Please convey my greetings to the Sumgayit doctors. I have repeatedly said that the dedication of doctors is truly admirable. All the people of Azerbaijan saw once again that our doctors, risking their own lives and health, stand by the sick day and night and always look after them. I have already said that it is difficult just to move around with this outfit on. They are on their feet day and night, they are next to the patients. Doctors play a huge role in the recovery of patients. Of course, all the measures taken and, as you noted, the transfer of modern clinics to those infected with coronavirus, the correct organization of work and preventive measures have saved us from greater troubles. True, there are losses but there could have been more. Therefore, as life shows, the adoption of preventive measures was the right step. 
Of course, I want to acknowledge doctors once again. As you know, several slogans have already been approved: "Together we are strong!" and "Kudos to Azerbaijani doctors!" We acknowledged all our doctors on the Flame Towers – one of the modern symbols of our country.
I want to touch upon one more issue. There were certain critical approaches to the healthcare system of Azerbaijan sometimes. Some even claimed that people go abroad, want to be treated abroad. I have already said that wealthy people in many countries tend to go to hospitals in the most developed countries of the world. But what are we seeing today? We see that we are not behind anyone in terms of health and medical services. Today, the health systems of developed countries are in crisis and cannot serve patients. Those infected with COVID-19 who are not in critical condition are not just recommended but ordered to stay at home. They are not admitted to hospitals. Patients in the most developed countries are placed in corridors and on the floor. Hundreds of people, hundreds have been dying for many days in the most developed countries. In fact, these are countries with a population almost the same as the population of Azerbaijan. The fact that hundreds of people are dying – 200, 300, 400 people – indicates that the healthcare system of these countries is not ready for this, cannot cope with such workload and has actually collapsed.
The main problem associated with coronavirus today is that the spread of the disease exceeds the existing healthcare capacity of these countries. Therefore, our main task was to prevent the large-scale spread of the disease. We knew that this disease came to us from abroad. When the infection process started already inside, we knew that it would be impossible to completely prevent the infection. But we needed to bide time to localize the disease, to break the chain of infection and to use this time to mobilize all our medicine, to launch enterprises for the production of masks and disinfectants. At the same time, on my instruction, those infected with coronavirus were placed in the most advanced hospitals, including the "Yeni klinika" and two clinics of the Azerbaijan Medical University. Patients are undergoing treatment in more than 20 clinics today. For a week now, we have been observing positive dynamics. What does it consist in? It means that the number of those becoming infected is lower than those recovering. This is the main thing. We are already seeing the results of restrictive measures.
An extensive social package was presented. At the first stage, we believed that we could resolve all matters with 1 billion manats. But then we saw that this was not enough. We increased it to 2.5 billion manats.  Taking into account all the programs, including tax and other benefits, this amount already exceeds 3.5 billion manats. We will do as much as necessary because people are not to blame for anything. Some worked informally although I have repeatedly asked them to have their jobs documented. But they also worked and earned some money. Now they were left without jobs. Therefore, our decisions take them into account as well – people who do not have any employment agreements. We understand that they lost their jobs. Currently, the dynamics are moving in a positive direction. Of course, when deciding on further steps, we will rely on the opinion of specialists. One cannot allow for arbitrariness or some other decisions. Specialists must say when we can mitigate restrictive measures to some extent. The experience of this week shows that this day is not too far off. Certain steps may be taken before 4 May because, as you know, the quarantine regime was extended until 4 May. If there are opportunities, certain mitigating steps will be taken. Nevertheless, monitoring will be constantly conducted. If we see that the situation develops in a negative direction after mitigation, we will have to tighten the measures again. Therefore, I want to say again: the key thing is health and the life of our citizens. It is difficult for everyone. I believe that when we were faced with this situation, we chose the most correct path. Our people are demonstrating their best qualities – solidarity and unity. I mentioned that responsibility should also be added to this. Unlike the early days, both responsibility and discipline have increased. In this situation, doctors standing the vigil of human health and police officers monitoring the quarantine regime deserve the highest praise. I have no doubt that we will get out of this situation with small losses, Inshallah! Thank you!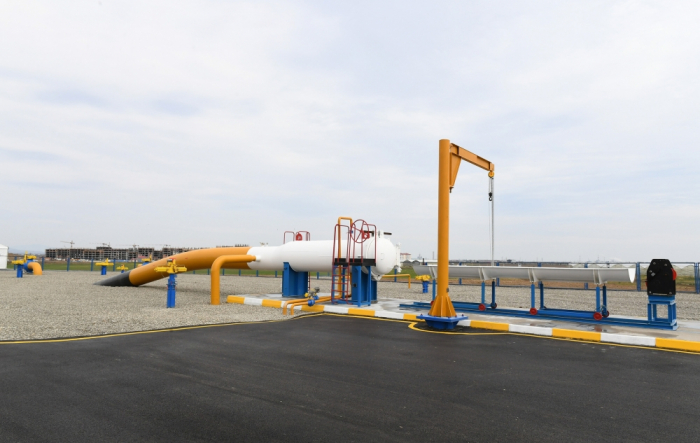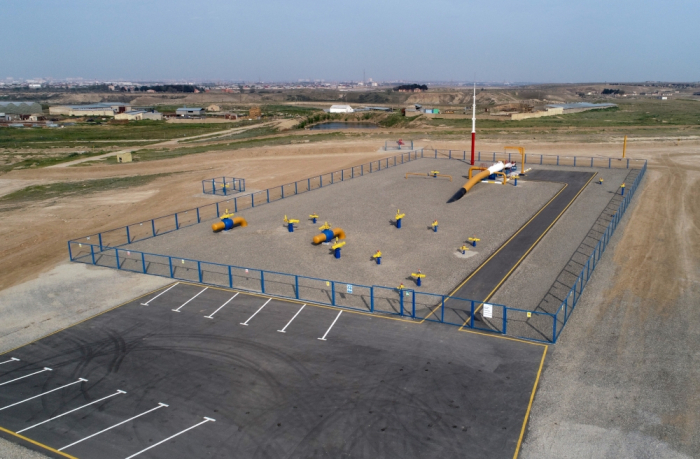 More about: Azerbaijan Ilham-Aliyev