Not content with inflicting violence on the civilian population of Azerbaijan, on 9 April Armenia brought naked violence to the streets of Paris, the European Azerbaijan Society told.
A group of more than 20 masked Armenians set on violence used iron bars, bottles, ammonia and other weapons against more than 200 Azerbaijanis, friends of Azerbaijan and supporters of international law. They were making their voices known outside of the Armenian Embassy in Paris in a noisy, yet peaceful, protest. French riot police dispersed the assault and are currently trying to identify the attackers, and emergency ambulances were called to attend to the wounded.
Organised by the Maison de l'Azerbaidjan (House of Azerbaijan) in Paris, the event was supported by the French office of The European Azerbaijan Society (TEAS), alongside diaspora and student groups. Supporters from France and Turkey were also present, chanting such slogans as 'Sargsyan – War Criminal', 'Armenian terrorists'; 'Armenians – Leave
Karabakh
'; and 'Justice for
Khojaly
'. The chanting was only halted temporarily to listen to mugham music (Qarabag Shikestesi) which emanates from the occupied
Karabakh
region.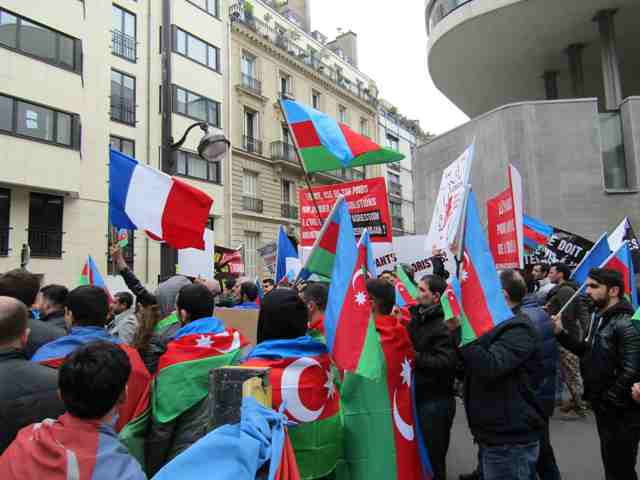 Before the violence erupted, Lionel Zetter, Director, TEAS, spoke to the assembled masses, saying: "We believe in international law. There are four UN Security Council resolutions, one UN General Assembly resolution, and one Parliamentary Assembly of the
Council of Europe
(
PACE
) resolution all saying the same thing – Nagorno-
Karabakh
and the seven surrounding regions belong to Azerbaijan. Just this week Pedro Agramunt, President,
PACE
, said that Armenia should withdraw its armed forces immediately. If Armenian armed forces were not in illegal occupation of Azerbaijani sovereign territory, there would be no conflict."
Mirvari Fataliyeva, President, Maison de l'Azerbaidjan, commented: "We are here to protest against the new military provocations from the Armenian forces. These have injured many persons. This is an undeclared war, continuing that which took place from 1988–94. That resulted in around 20 per cent of Azerbaijani territory being occupied by Armenia and around one million people becoming refugees and internally displaced persons (IDPs), who remain in camps to this day. The victims of the war should never be forgotten, particularly the 613 victims of the
Khojaly
Massacre. Nothing has changed up to today. We are calling for justice." Mrs Fataliyeva then called for a minute of silence to be observed for the recent victims of the reignited conflict.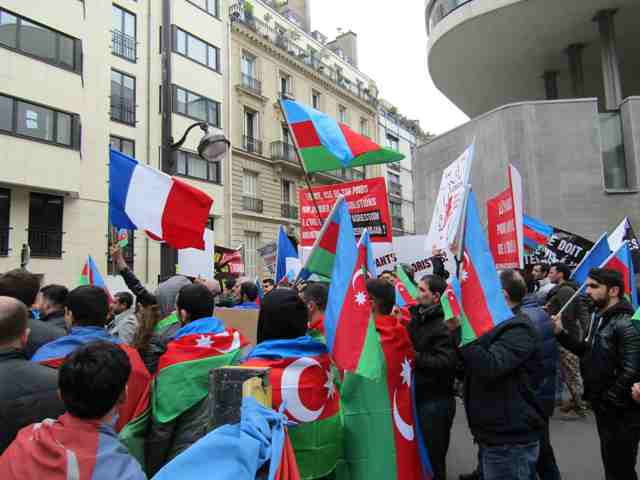 Togrul Zaynalov, President, Azerbaijan–France Cultural Association of Nantes said: "We are here to protest against the recent Armenian military aggression against Azerbaijani land. We live in France, and France is our second homeland, and we ask that France should act against this aggression. Long live France, long live the Republic, and long live Azerbaijanis living in France!"
The protesters demanded that France – a Co-Chair of the
OSCE
Minsk Group, tasked with achieving a negotiated peace to the conflict – should be more active in motivating the international community to back a peaceful resolution of the Armenian–Azerbaijani conflict over Nagorno-Karabkh.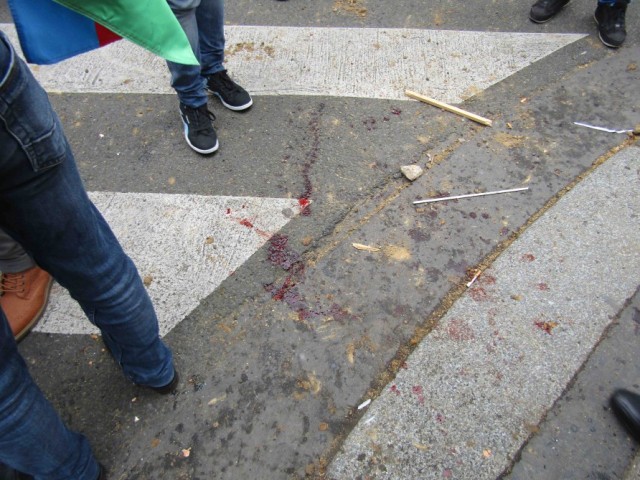 The protest came in the wake of the events of 1–2 April when the Armenian armed forces occupying the Azerbaijani territory of Nagorno-
Karabakh
and the seven surrounding regions violated the ceasefire by firing on civilians in the territories near the 'contact line'. Since the ceasefire, Armenia has continued to fire upon these civilian populations and has not accepted the solutions proposed by numerous international organisations.
For over 20 years, Armenia has continued to flout international law and the four UN Security Council resolutions passed in 1993 stating that Armenian armed forces should leave Azerbaijani territory have not been implemented. Currently, thousands of Azerbaijanis have become refugees and internally displaced persons (IDPs), residing in camps across Azerbaijan. Some of these camps were shelled by Armenian artillery just this week, forcing the refugees and IDPs to flee once again. It was in response to this latest outrage that Azerbaijani military forces felt constrained to neutralise the bombarding Armenian forces.