The visit from President of Indonesia is special since the President of Pakistan urge himself to picked up directly at the airport and he need to wait for awhile until the plane of Indonesia President landed in his land.
From the photo taken by the Indonesia Press Bureau of the Presidential Secretariat, Mr. Mamnun appears to hold Mr. Widodo tightly with both of his hands. His smile was wide when he looked at Mr. Widodo. Mr. Widodo also treats the same thing for Mr. Mamnun. He seemed flattered when greeted directly by the President of Pakistan.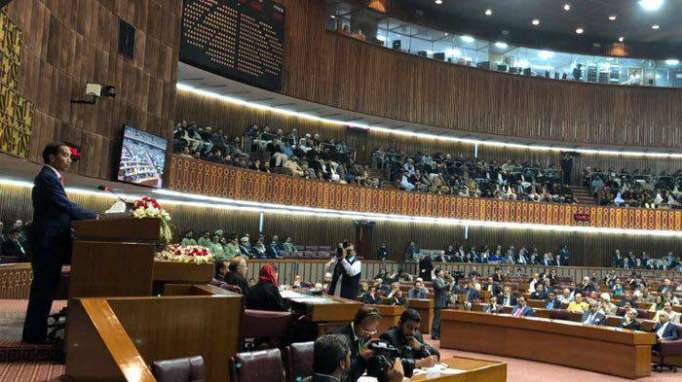 One of Indonesia President's agenda is to meet Pakistani Prime Minister Shahid Khaqan Abbasi. "When arriving at Prime Minister's House, President Joko Widodo and PM Abbasi go directly to Honorary Dais," said Deputy Secretary of Protocol, Press and Media Secretariat of President Bey Machmudin in a written statement on Saturday (27/1/2018). Mr. Widodo was welcomed by the Pakistani prime minister. He and Abbasi then held a tête-à-tête.
At the different occasion, Indonesia Minister of Foreign Affair, Retno Marsudi,
stated that Indonesia trade to Pakistan will be strengthened. Indonesia total trade from January to October 2017 was about USD 2.13 billion. Pakistan also has the fifth largest population in the world. Its population in 2016 reaches 201 million people. "And from the side of its growth, is also quite great, in around 4,7% per year 2016. That is why, we want to enhance this," she said.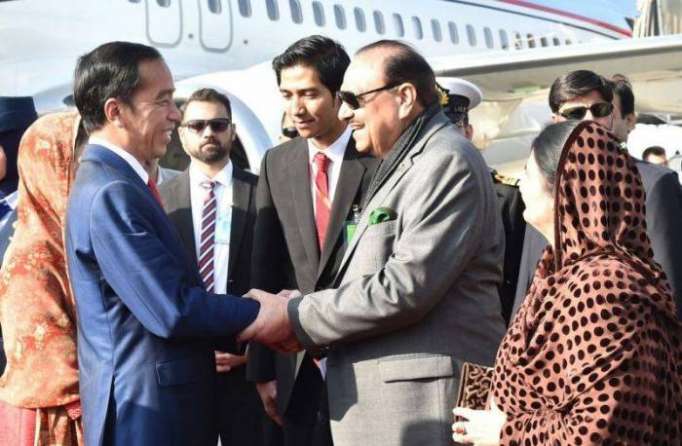 "The event was followed by a bilateral meeting, signing a memorandum of understanding on energy and trade, ending with a lunch with PM Abbasi," Bey said. During his visit, President Joko Widodo also tried a Pakistani fighter jet before leaving for Bangladesh at Nur Khan Air Base, Islamabad. Indonesia President also had a speech in front of the parliament of Pakistan.
"Fifty-five years later, the President of the Republic of Indonesia again has the honor of speaking before the Pakistani Parliament. I want to use this opportunity to enhance the cooperation for world peace and prosperity," said Indonesia President in his speech in Islamabad, Pakistan, Friday (26/1/2018) evening local time.
"Our two countries are equally the initiators of the Asian-African Conference and our two countries are also consistently helping the struggle of the Palestinian people in various forums, I believe that this vision can be developed into cooperation in various fields," said Mr. Widodo in a written statement, Saturday (27/1/2018).
Mr. Widodo believes his state visit to Pakistan will strengthen the cooperation and friendship of both countries. To that end, Jokowi focuses on three major bilateral issues, namely economic cooperation, inter-community relations, and cooperation for Palestine.
Indonesia and Pakistan have so many similarities among them, both countries are huge Muslim majority countries, both countries are fellow OIC countries, fellow non-aligned countries, initiators of the Asian-African Conference and equally important, both countries are democracies.
"As Pakistan, in addition to be homes for Muslims, Indonesia is also home to Hindus, Catholics, Christians, Buddhists and others." Indonesia is a plural country, "said Mr. Widodo.
"Bhinneka Tunggal Ika, that is the motto of our nation's life, we are also grateful that we can live a democratic nation and state and everyone understands that managing plurality is not easy, democracy is not easy," he continued.
According to him, in order to maintain pluralism strong commitment required all elements of the nation. Commitment of mutual respect is also necessary for democracy to go well.
Mr. Widodo said political stability in Indonesia can be maintained due to democracy. Democracy also makes Indonesia's growth strong enough, above 5 percent annually and makes Indonesia one of the 20 largest economies in the world.
"As President, my belief is very strong that democracy is the most appropriate way to serve the interests of our society, Democracy provides space for people in the decision-making process," said Jokowi.
Jokowi also ensures that this economic growth can be enjoyed by all Indonesian people. "Fair development continues to be a priority," he said.
Today (30/01) President Joko Widodo has just returned from a five-country visit in seven days. The five countries are Sri Lanka, India, Pakistan, Bangladesh, and Afghanistan.
More about: