Seti (Search for Extraterrestrial Intelligence) wants to expand operations at two observatories.
However, it has found that key computer chips are in short supply.
"We'd like to use the latest GPUs [graphics processing units]... and we can't get 'em," said Dan Werthimer.
Demand for GPUs has soared recently thanks to crypto-currency mining.
"That's limiting our search for extra-terrestrials, to try to answer the question, 'Are we alone? Is there anybody out there?'," Dr Werthimer told the BBC.
"This is a new problem, it's only happened on orders we've been trying to make in the last couple of months."
Mining a currency such as Bitcoin or Ethereum involves connecting computers to a global network and using them to solve complex mathematical puzzles.
This forms part of the process of validating transactions made by people who use the currency.
As a reward for this work, the miners receive a small crypto-currency payment, making it potentially profitable.
GPUs are high-performance chips and aren't just used for powering video games - they may be stacked together by Bitcoin miners, radio-astronomers or others interested in processing large amounts of data for certain applications.
"At Seti we want to look at as many frequency channels as we possibly can because we don't know what frequency ET will be broadcasting on and we want to look for lots of different signal types - is it AM or FM, what communication are they using?" explained Dr Werthimer, who is chief scientist at the Berkeley Seti Research Center.
"That takes a lot of computing power."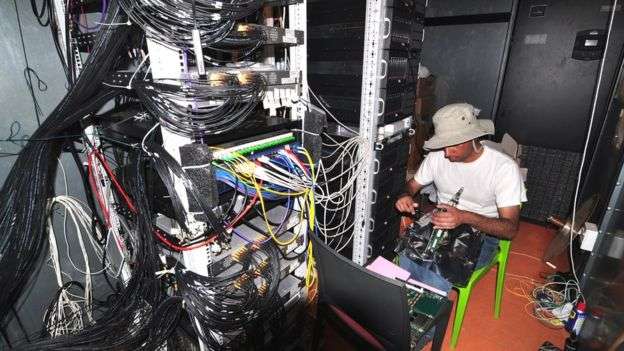 He added that at some telescopes, Seti has around 100 GPUs crunching data from large listening arrays.
These arrays can pick up the faintest of radio frequencies that have been flung across our solar system from elsewhere in the universe - often from natural phenomena such as collapsing stars.
Seti is currently trying to improve its capacity for analysing such data at two observatories - Green Bank in West Virginia and Parkes in Australia.
But the institute has been hit by the GPU shortage.
"We've got the money, we've contacted the vendors, and they say, 'we just don't have them'," said Dr Werthimer.
Earlier this year, there were reports that video gamers had been hit by a sudden rise in the cost of GPUs, thanks in particular to a rise in Ethereum mining, which can be done with chips aimed at consumers.
At the time, major chip-maker Nvidia said that retailers should make arrangements to make sure gamers' demands were met.
BBC
More about: Crypto-currency