But one Scottish farmer thought udderly outside the box when he popped the question to his girlfriend.
Chris Gospel, 30, asked Eilidh Fraser to be his wife by writing 'Will you marry me?' on the side of a cow.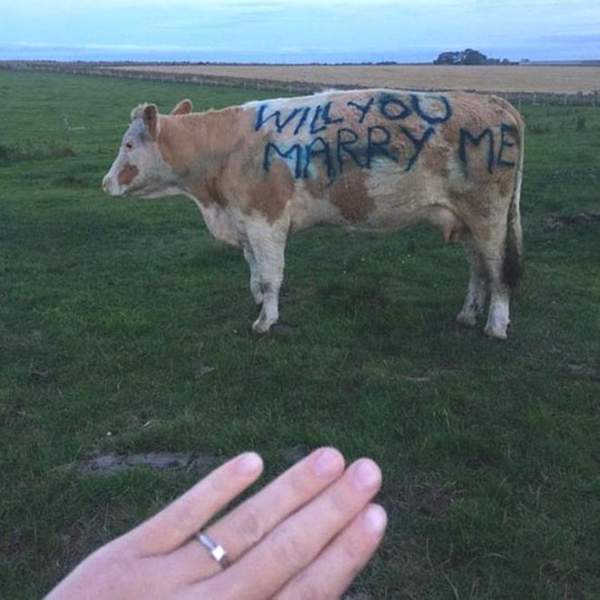 After Fraser, 30, saw the message written on Curlytop, her livestock farmer boyfriend got down on one knee.
Fortunately for everyone involved, Fraser, a laboratory worker, said yes.
"Curlytop is Eilidh's favourite cow," Gospel says, explaining that after she hand-fed the cow, Curlytop has been affectionate towards her ever since. 
"She is around the cows most nights so I managed to write the proposal, and then said we should go down and see her after she got back from work," explains Gospel.
As the couple approached Curlytop, Fraser suspected something was different.
"Curlytop came up to us and Eilidh said 'what have you done?'," reveals Gospel.
"Eilidh turned round and I went down on one knee - and she said yes."
Fraser didn't expect a proposal though, saying it was a "complete surprise" to her.
The couple are yet to decide on a wedding venue however Gospel said he would have to check the animal policy to find out whether Curlytop can be a part of their special day.
We're sure she will want to be there to see Gospel and Fraser say, "I moo."
The Independent
More about: love