The U.S. swiftly proclaimed its support for Guaidó. Maduro responded by announcing a break in diplomatic relations with Washington.
Guaidó, the 35-year-old recently elected head of Venezuela's National Assembly, took the oath of office on an outdoor podium in Caracas, flanked by yellow, blue and red Venezuelan flags. He raised his right hand as a crowd erupted in cheers. He promised to serve as interim leader and call for general elections.
"The people of Venezuela have courageously spoken out against Maduro and his regime and demanded freedom and the rule of law," President Trump said in a statement. He pressed other governments to recognize Guaidó and pledged "to use the full weight of United States economic and diplomatic power to press for the restoration of Venezuelan democracy."
Maduro has not agreed to cede power. He announced Wednesday afternoon that U.S. diplomatic personnel had 72 hours to leave Venezuela. In a televised address from the presidential palace, Maduro accused Guaidó and Washington of staging a coup.
In a statement issued late Wednesday. U.S. Secretary of State Mike Pompeo said the Trump administration does not recognize the Maduro government or its authority to break diplomatic relations with the United States and "to declare American diplomats persona no grata."
"We welcome interim President Guaido's directive to all diplomatic missions in Venezuela that Venezuela intends to maintain diplomatic relations with all countries. The United States maintains diplomatic relations with Venezuela and will conduct our relations with Venezuela through the government of interim President Guaido, who has invited our mission to remain in Venezuela. ...
"We call on the Venezuelan military and security forces to continue protecting the welfare and well-being of all Venezuelan citizens, as well as U.S. and other foreign citizens in Venezuela. We call on all parties to refrain from measures that are inconsistent with the privileges and immunities enjoyed by members of the diplomatic community. The United States will take appropriate actions to hold accountable anyone who endangers the safety and security of our mission and its personnel."
Earlier in the day, Guaidó issued a statement urging all foreign embassies in the country to disobey Maduro's 72-hour deadline and not to remove their diplomats.
When asked by a reporter whether the U.S. is considering military options, Trump replied: "We are not considering anything, but all options are on the table. ... All options, always, all options are on the table."
In addition to the U.S., Canada and nine other governments in the Western Hemisphere, including Brazil, Argentina and Colombia, recognized Guaidó as interim president, the AP reports. The Organization of American States also backs Guaidó.
Venezuela protests: 'Four dead' as thousands rally against Maduro
Tens of thousands are gathering across Venezuela to march in protest against President Nicolás Maduro. Four people are said to have died in clashes before the protests, as riot police mobilise to guard demonstrators.
National Assembly president Juan Guaidó, who organised the opposition march, is urging the army to disobey the government. Before the protests, the US government signalled its support for Mr Guaidó and called for President Maduro to go.
Early images from Wednesday's protests show some demonstrators facing off against National Guard security forces in the capital Caracas, and tear gas being fired.
Anti-government protestors have turned up in "many cities" across the country, newspaper Tal Cual reported Wednesday. Other demonstrations are being held in support of Mr Maduro.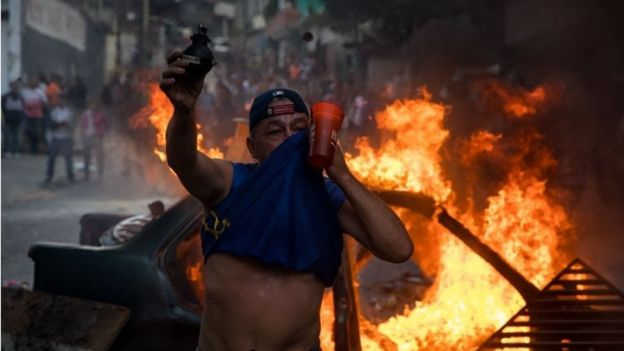 What does the opposition want?
Opposition protestors are backing an attempt by Mr Guaidó to replace Mr Maduro and serve as an interim president ahead of new elections. The governing Socialist Party announced a rival protest to counter the opposition march - and supporters on Wednesday have gathered for both sides.
On Tuesday, Venezuela's Supreme Court on Tuesday asked the state prosecutor to investigate whether Mr Guaidó had committed a crime. Wednesday's demonstrations come just two days after 27 National Guard soldiers allegedly revolted against the government at a guard post in the capital, Caracas.
Government officials dismissed it as a cover to steal weapons, but Mr Guaidó has urged others to follow in revolt. Addressing soldiers on Monday, Mr Guaidó promised amnesty for those who refused to serve the government.
"We're not asking you to launch a coup d'état, we're not asking you to shoot," he said. "We're asking you not to shoot at us." On Wednesday the Congress leader tweeted (in Spanish): "Venezuela is reborn today in the streets in search of freedom and democracy"
Overnight protestors in the southern city of Puerto Ordaz reportedly toppled a statue of late socialist leader Hugo Chavez - a symbolic gesture against Mr Maduro's government.
A 16-year-old with gunshot injuries was reportedly among those killed overnight on Tuesday, rights group the Venezuelan Observatory of Social Conflict says.
More about: Venezuela