Holding back tears, the star thanked Bradley Cooper, her co-star and director in A Star Is Born, who missed the show to attend The Baftas.
She used her speech to highlight the film's mental health message, telling the audience: "If you see someone that's hurting, don't look away."
Ariana Grande, Dua Lipa and Childish Gambino also took home major awards.
Dua won best new artist - one of the night's four main awards - becoming the first British artist to receive the honour since Sam Smith in 2015.
She thanked "all the incredible female artists" she'd been nominated with, adding: "I guess this year we've really stepped up."
The comment was a dig at Grammys president Neil Portnow, who - last year - tried to deflect criticism of the lack of female winners by saying women needed to "step up" if they wanted to be considered.
He later apologised for his comments and announced a task force to tackle gender imbalance at the Grammys.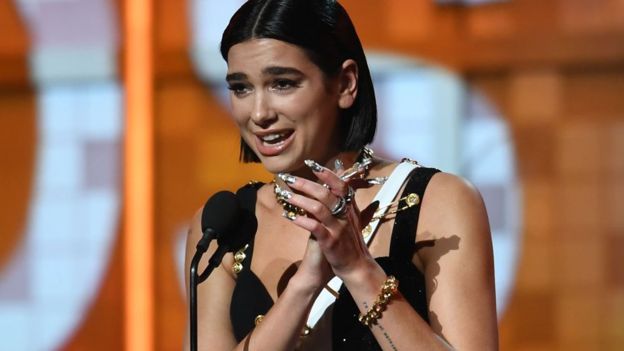 Ariana, who pulled out of a planned performance after a dispute with organisers, received best pop album for Sweetener - her first ever Grammy Award.
"This is wild and beautiful," she tweeted. "Thank you so much."
Brooklyn rapper Cardi B became the first solo female to win best rap album, for her debut Invasion of Privacy.
She thanked her newborn daughter Kulture Kiari for giving her the impetus to finish the record on schedule.
"When I found out I was pregnant, my album was not complete," she said. "So I was like, 'I have to get this album done so we can shoot these videos while I was not showing.'"
Obama surprise
Pop star Camila Cabello opened the ceremony with a colourful - and expensive - staging of her smash hit Havana.
"The performance is based off of my grandma's childhood, and I have my family in the performance," she said on the red carpet. "I definitely have severe butterflies."
The sizzling performance also included fellow Latin performers Ricky Martin and J Balvin, as well as a full Cuban salsa band.
It set the tone for a female-fronted Grammy ceremony, a response to criticism of last year's event, where only one woman took home a major prize.
2018 host James Corden was replaced by Alicia Keys, who brought out Gaga, Jada Pinkett-Smith, Jennifer Lopez and former first lady Michelle Obama during her opening link.
Obama gave a speech about the unifying power of music: "Whether we like country or rap or rock, music helps us share ourselves, our dignity and sorrows, our hopes and joys. It allows us to hear one another, to invite each other in."
The show also celebrated two of the industry's biggest female stars - Dolly Parton and Diana Ross, who were recognised for their contribution to music.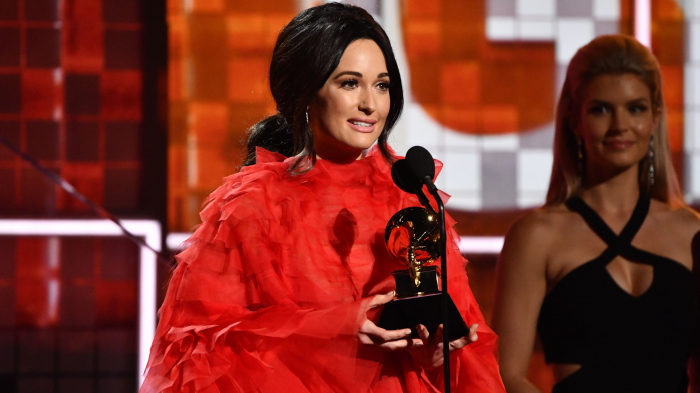 Parton was joined on stage by Katy Perry, Kacey Musgraves, Little Big Town and Maren Morris for a joyful medley of her biggest hits.
"I'm just internally freaking out," said Morris before the show. "I met her and I was just trying not to quote Steel Magnolias at her."
Parton's god-daughter Miley Cyrus also took part in a spirited duet of Jolene.
Dozens of awards were handed out before the televised ceremony kicked off, with The Greatest Showman, winning best soundtrack; and Childish Gambino's incendiary, scathing attack on racial politics and gun control, This Is America, taking home best video.
Dua Lipa won her first Grammy for the Silk City collaboration Electricity, which got best dance recording. The British star is up for best new artist later in the show.
"I'm so emotional," said the British star, who is also up for best new artist in the main ceremony. "I keep trying to look after my make-up. It's watering on the sides!"
Fellow Brit Ella Mai also won an early trophy - best R&B song for the slinky summer hit Boo'd Up.
"I'm legit trying to take it all in," said the singer, who's also nominated for song of the year. "I've dreamt of this moment ever since I was a little girl."
BBC
More about: GrammyAwards