Naturally, our footballers expressed their rejection against the incident, and the game was disrupted for 15-20 minutes due to provocation. Azerbaijani government harshly condemned the incident. Our ambassador accredited in Luxembourg was asked to contact the Foreign Ministry of the country to make sure that those responsible for the provocations were found and brought to justice.
Luxembourg's Minister of Sports and Dudelange club authorities apologized to Qarabag for provocation and promised to figure out the incident as soon as possible. We believe and want to believe that investigation will yield result.  
Because, if we dig a little deeper, in fact, this Armenian provocation is not only directed against Azerbaijan. First of all, the drones that could easily enter the stadium would carry not a flag, but other dangerous goods, such as bombs. Secondly ...
Currently, the world calls not to use football as a political tool. Both UEFA and other football teams around the world are working hard to prevent such situations. In this situation, the fact that Armenians bring the "flag" of a criminal regime to the playing field with drones is not only a provocation against Azerbaijan but also an insult to the entire football community of the world. Every game has its own pitch!
Only an Armenian could think of such a provocation – coward, cunning, backstab… What does such a provocation mean, while the Armenian diaspora and lobby in Europe are becoming weak and Azerbaijan has taken advantage in the information warfare?! We were represented by a brilliant football club named after Karabakh, and the Armenians were represented by an unrecognized piece of cloth poorly hanging from a flying toy. This already means a victory!
The Armenian provocation, in fact, is not an information provocation, but information terrorism, because only terrorists try to make a big impact through a small incident. Terror is the tactic of the loser, and only weak people attempt it. This incident showed that the Armenians, who have already lost in the information warfare, have started to resort to terrorist tactics in that area.
The best answer to this information warfare was two goals scored by Qarabag FC following the tensions because of the provocation. Maybe those two goals were the most meaningful goals of Qarabag FC. As if with these goals Qarabag wanted to say that victory will be ours despite any provocation.
Indeed this information terrorism will mostly disgrace Armenia. Sports events have always been considered as events promoting peace. It is unacceptable to bring provocation of war, hatred and xenophobia to the sports arena. Armenia restored this tradition which existed in Europe during Nazi Germany.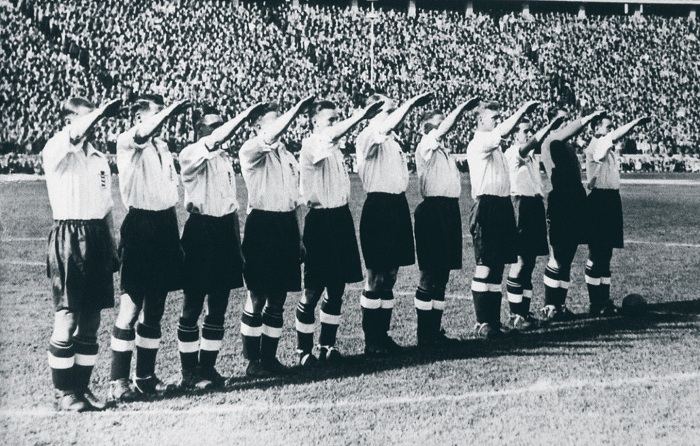 With such action, Armenia again showed that they are morally and spiritually close with fascism. People are highly sensitive to such issues in Europe. On the other side, such cases overstate 'Qarabag'. This team has faced many injustices, unfair decisions and provocations but every time assertively continued along its path. They get more love and successes. This can also be considered a symbolic case.
Vusal Mammadov
AzVision.az
More about: Armenia fascism Qarabag-FC