An encounter has taken place at Baghtehedjik, near Ismid, between Armenian residents and the Turkish gendarmes.
Five of the soldiers were killed and a number wounded. Troops have been sent to reinforce the gendarmes.
(Armenians Kill Soldiers, Davenport Morning Tribune, 9 September 1890)

- Two Armed Armenian bands have appeared at Sandjak, in the Mush district of Asiatic Turkey.
In an encounter between the Armenians and a detachment of Turkish troops the latter lost an
officer and two men killed.
(Armenians Attack Turks, Fort Wayne Sentinel, 22 January 1902)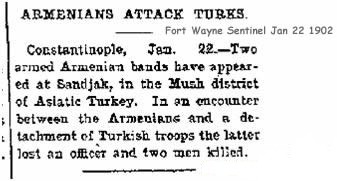 - It is reported that in the goverment of Erivin, seven hundred Armenians from a number of villages
attacked the
Tartar
village of Gors, killing 400 of the villagers, and plundered and burned all property.
(Armenians Attack Tartar Village, Monitoba Free Press, 15 November 1905)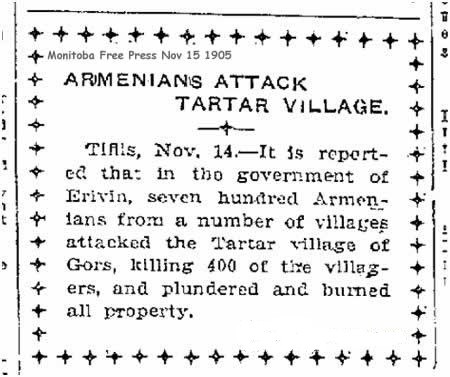 - According to dispatch from the Governer of Bitlis, Asiatic Turkey, seventeen villages have been
destroyed by Armenian insurgents in the district of Sassun. More than 600 Armenian families
have taken refuge in Mush, a town in Bitlis.
(Armenians Destroy Seventeen Villages, Post Standard, 19 May 1904)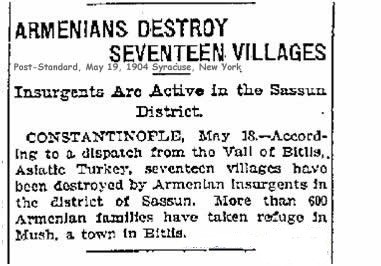 - The latest dispatch received from Tiflis, Caucasia, says that 300 houses in Musulman quarter
were set on fire by Armed Armenians, who prevented the inmates from leaving and fired on the
firemen who attempted to extinguish the flames. The total number of Musulmans killed is not
yet ascertained, but 57 Turkish subjects are known to have perished. The fighting was continuing
December 17, when the telegram was forwarded, and the Turkish consulate was overcrowded
with the refugees.
(Armenians Burn Turks, Tyrone Herald, 21 December 1905)