There are few destinations left unturned when the goal of the holiday is to seek out new flavours, but this destination is one that's flown under the radar. Until now, that is. All in the name of research, Cassandra Charlick has taken her appetite to the crossroads of the East and West. Azerbaijan is steeped in centuries of history on the Silk Route and is blessed with nine out of the world's eleven climate zones. What does that mean exactly? Incredible produce, insane variety and over 4000 different dishes. Pack your bags and stamp that passport before the secret is out. Here are the first dishes to check off that must-eat list.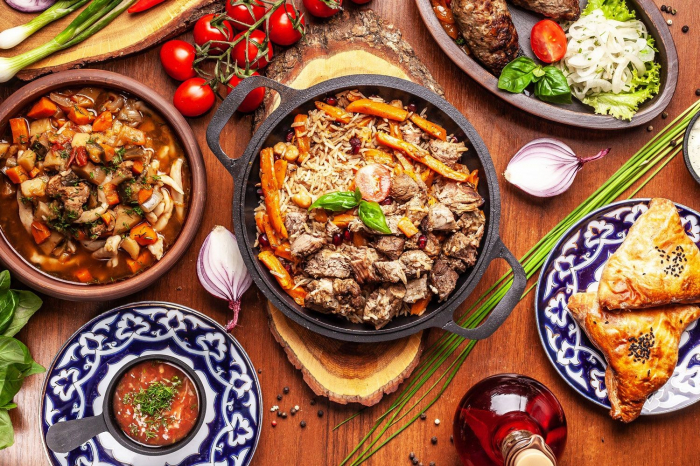 Plate up the Plov
Almost every cuisine has some form of rice centred dish. In Azerbaijan, this is it and you'll find it on every menu. From the everyday through to celebratory, there are over 200 different kinds of plov throughout the country. If you are only going to try one through, it's got to be Shakh Plov. Translated as 'Crown Plov', this is a showstopper of a dish that tastes just as good as the looks. Think of a pilaf studded with dried fruit jewels, heady saffron strands, melt-in-your mouth lamb and filling chestnuts. Then wrap the whole thing in lavash like a present, melt butter over the top and pop in the oven. The best bit? Cutting into the crispy shell and letting the contents pour onto your plate. Make sure you are hungry if you order this one.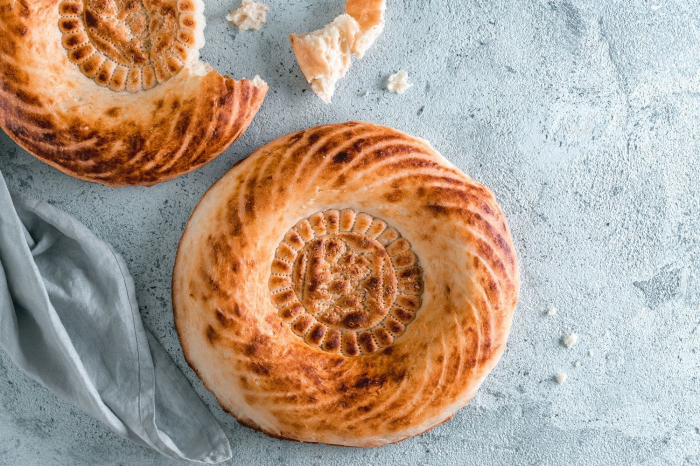 Breaking bread
You'll not find a table without fresh bread on it in Azerbaijan. Bread is a staple at EVERY meal and you'll soon see why. Tandir baked bread is the stuff of dreams (or nightmares if you are gluten intolerant). It's so damn good both on its own or used to mop up the juices of whatever is gracing your plate. If you get the chance, do watch it being made. The wet dough is slapped onto the round walls of the hot tandir (tandoor) and then finished off over hot coals. Rye loaf and super thin lavash are also popular in the bread basket.
Comfort food
In need of a hug on a plate? Order Khangal and carb up. Fresh dough is cut into thick strips and lightly cooked before loading up with melted butter (there's a culinary theme here), and topped with gently cooked lamb mice and onions, before being crowned with a dollop of yoghurt. You'll find veggie options that sub the meat for onions and potato. Dushbara is a soup filled with tiny mutton dumplings (and butter) and the saying is that a good chef should be able to fit as many as 16 in one spoonful. Finally, one of the most intensely flavoured dishes soup is Chigirtma. Chicken is fried in butter and then simmered in broth laced with saffron and marigold flowers, and finished with a kind of poached omelette on top. It's hard to stop at one bowl with this one.
Djiz-biz
This has got to be one of the best names for a traditional dish out there. Pronounced 'jizz-bizz' it's worth ordering just so you can utter those words in a restaurant. The dish itself is also tasty and nutritious, though it might not be as inviting as some of the other options. A combo of lamb offal and potatoes are fried up in a nutritious and rich kind of hash. It's likely the kitchen would smell just as intense if you tried whipping this up at home. Mop up the juices with hunks of tandir bread.
Word on the street
Savouring the national street food is surely a culinary highlight of any trip. Whether it's good, great or downright inedible there is bound to be a story attached to the experience. You'll not find fried bugs or unidentifiable animal parts roasted on a stick here. The street food is just downright delish. One grab and go delight you'll find yourself reaching for time and time again is a type of stuffed flatbread called Kutab. Similar to the familiar Turkish Gozleme, it's thinly stretched dough is crammed full with different fillings. Fresh herbs, pumpkin and cheese, and fried lamb are all standards. Cooked over the fire, the blistering dough is topped with more melted butter and served with yoghurt and sumac to sprinkle on before the first bite. Wrap it up and gobble it down.
Get your fill of Ferments
There is rarely a day that goes by without a dose of probiotics here. Plenty of dishes are served with a side of yoghurt dolloped on the plate; the tartness is the perfect offset to the liberal use of butter and lamb fat in most dishes. Top with a sprinkle of sumac for an extra sour kick. Dovga is a yoghurt based soup served either hot or cold. The warm option is super comforting, with rice, chickpeas and herbs such as sorrel and dill scattered throughout. Ayran is a light and salty drink that is said to improve appetite. It's seriously thirst quenching in the warm weather and totally refreshing when most of the other liquid options involve a fair whack of sugar. Finally, if you order cheese at any point you'll come across Motal Pendir (Motal Cheese), the milk is fermented in animal hides and the smell is truly…unique.
Eat your veg
You've got no excuses for not getting your five and two when eating your way around Azerbaijan. Fresh produce is in abundance thanks to rich volcanic soil; it's said to be so fertile that if you throw a branch in the ground it will grow. Platters of pickled vegetables including cabbage, eggplant, tomatoes and chilli are perfect to pick at, and you'll want to ensure you order a bowl of 'salad' for the table. You'll be served a dish of whole tomatoes and baby cucumbers alongside bunches of fresh herbs to pick at throughout the meal. Want some real produce porn? Hit up the local bazar. It's foodie heaven.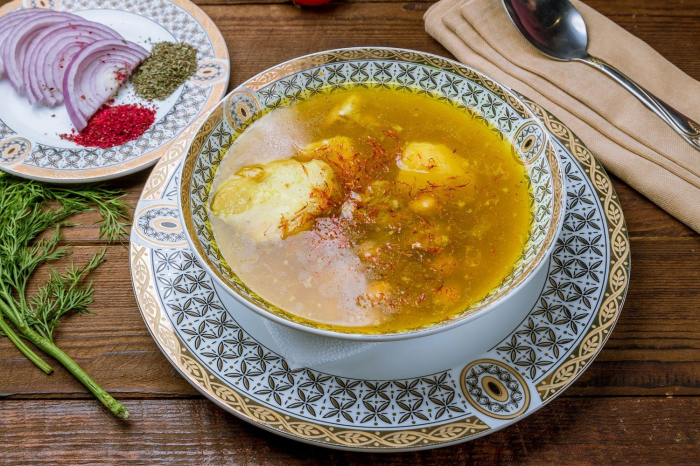 Piti
If you make it to the old capital of Sheki, this is one dish you'll not be able to miss. Piti is the most famous dish from the region and with good reason. Cooked in single portion clay pots called 'dopu'; poke your head into almost any kitchen in the locality and you'll find a row of them slowly brazing their contents over hot coals. Each pot is filled with a rich combo of slow cooked mutton, sheep fat, chickpeas, vegetables, chestnuts and saffron and is cooked for 8-9 hours before arriving at your table. Make sure you enjoy it in the traditional method: pout the broth into a bowl, sprinkle on some sumac and slurp it up, dunking pieces of fresh bread in as you go. Next mash up the meat in your bowl with some more bread and chow down.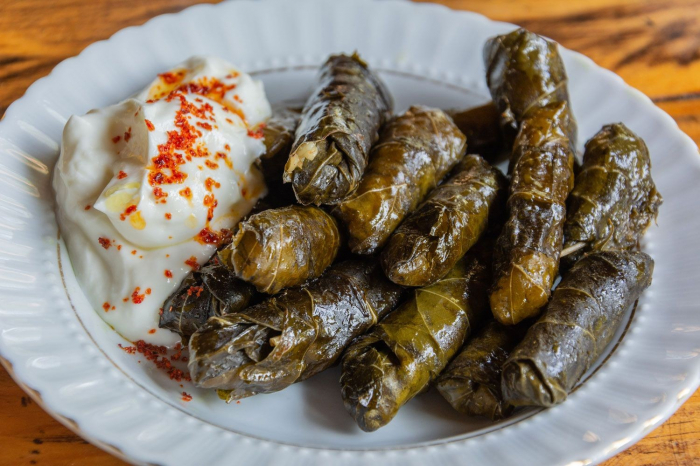 Discover Dolma
Think you've tried dolma? Think again. There are almost 400 varieties of dolma, usually with a delicious filling of lamb, herbs, onion and of course butter. Order the vine leaf version, which are stuffed with meltingly tender lamb mince and are served with a spoonful of yoghurt on top. 'Three Sisters' is the trifactor of stuffed tomato, capsicum and eggplant swimming in a buttery stock. Get your bread at the ready to scoop it all up as it's too good to let it go to waste. You'll find most almost all households have their own hand-mincers tucked under the sink. Dolma is a national dish and it's taken seriously by chefs and home cooks alike. With good reason – it's delicious.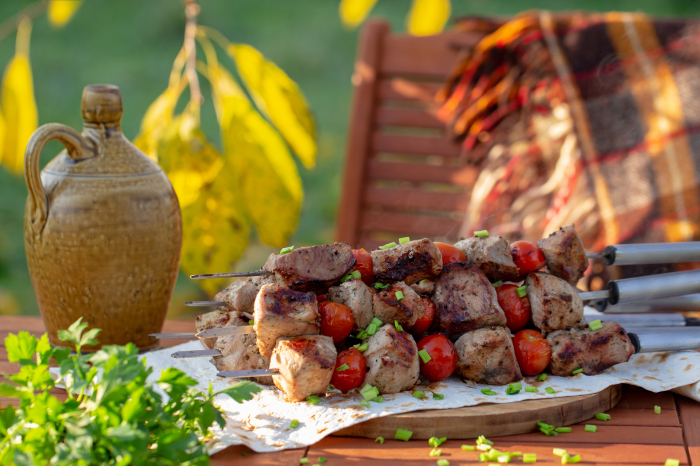 Did someone say BBQ?
Azerbaijan isn't called 'the land of fire' for nothing; whenever possible you'll find the use of hot coals and blazing flames in the kitchen. While there certainly are options for vegetarians, it's a meat lovers paradise here. You've got Lyulya kebabs left right and centre, made with minced lamb or chicken and spices – they are damn good on their own or wrapped in lavash. Saj is another must-eat dish. Meat and veg are cooked over a high heat in a special pan that is brought out to the table with a flourish and kept warm over hot coals on a brazier. Tuck in.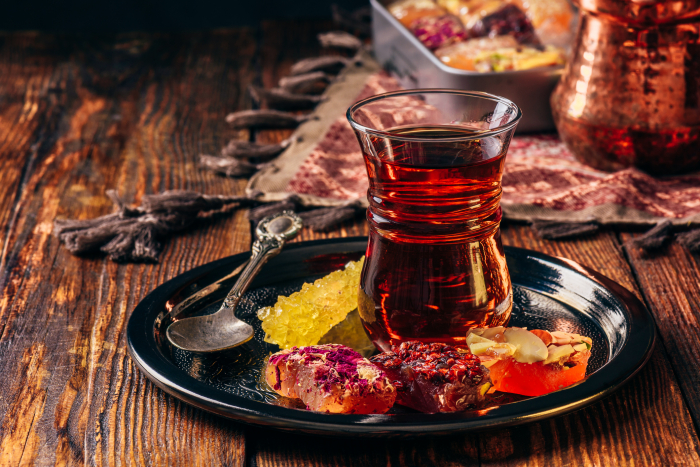 Time for tea
There is ALWAYS time for tea in Azerbaijan. Sitting down together over a glass of the aromatic stuff is a ritual you won't be able to get away from. Meals end with tea and sweets, every day starts with a brew, and nothing rejuvenates mid-morning or afternoon quite like a cuppa. You'll not got bored either: each region has their own special blend from gathered wild herbs. Be sure to pay attention to how it is made and served; if it's traditionally made it'll be brewed in a large urn called a samovar and poured into delicate hourglass shaped glasses. Known as Armudu, these have a practical design. The surface of the liquid at the top cools, while the bottom remains piping hot.
Sugar high
It can't be tea time without something to sweeten the deal. Azerbaijan is not short on ways to incorporate sugar into your diet. Preserves and jams are a regular staple. Jam not your jam? Hold on, as jam here is very different to the sugary, fruitless goop found at the back of the pantry in most Aussie households.
Using whole fruits, flowers and nuts these are intensely flavoured jars of the sweet stuff. While berries are a favourite (especially cherry), you'll find that flavours here are only limited by imagination. Rose petal, quince, fig, watermelon, olive and even walnut jam are a delight on the tastebuds. Take jam like a pro – pour your tea and sweeten your palate with a spoonful of jam in-between sips.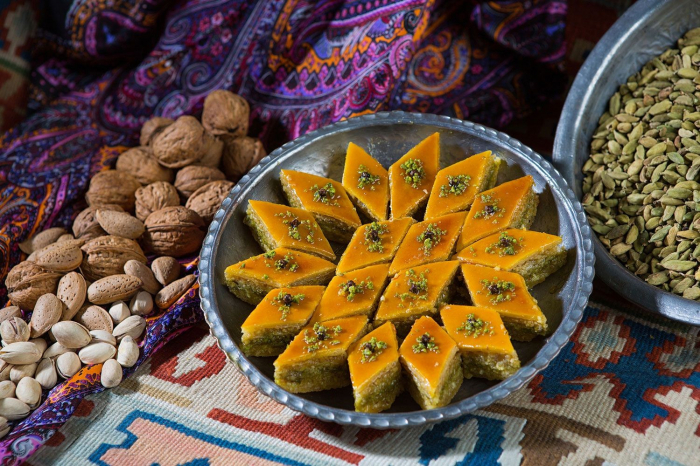 Baklava and beyond
Continuing on the sweet theme, you can't miss a sample of Baku Baklava, or Phaklava as it is known. It's easy to spend several weeks here and still be working you way through all of the sugary delights. Phaklava is a must try though. It's very different to the more familiar Greek or Turkish variety. Denser, the pastry is hand rolled and layered from 8 to 16 times in-between crushed nuts and honey. Doused in sugar syrup and plenty of butter, the finished product is utterly delicious. Sheki is famous for their own unique Halva; it's so good the Azeri trek from all over the country to stock up. Made with circular thin layers of rice flour stuffed with ground nuts and cardamom, the finishing touch is a hand decorated pattern using saffron ink. Oh and lashings of sugar syrup, of course.
Drink up
While neighbouring Georgia has made a name on the international wine scene for their natural vino, Azerbaijan is right next door and privy to some pretty special wines too. Try the local grape varieties for something interesting; Saperavi and Madrasa are two reds worth sampling. It's a little hard to get around to all of the wineries, though many are open to the public. If you're based in Baku take a trip through the ever changing Azerbaijan wine list at the cosy wine bar Kefli. You'll even be able to try pomegranate wine, though it's definitely an acquired taste! Sherbet and compote are two non-alcoholic drinks you'll see locals sipping on when out and about. Try the purple one; it's sweet but herbal in taste, made from purple basil.
Australian-based delicious.com.au 
Please click here for the full article
More about: