Chairman of the State Statistical Committee of Azerbaijan Tahir Budagov, has met with the General Director of the General Statistics Office of Vietnam, Nguyen Thi Huong in Hanoi to discuss prospects for cooperation.
During the meeting, the sides hailed development of relations between Azerbaijan and Vietnam, stressing the interest of both countries in deepening multifaceted relations in various fields.
Mrs. Nguyen Thi Huong gave information about the activities of the General Statistics Office of Vietnam, stressing her country's interest in the experience of Azerbaijan in the field of statistics. She also expressed readiness to take real steps to ensure cooperation between statistical institutions of the two countries.
Tahir Budagov spoke about the activities of the statistics committee of Azerbaijan, as well as statistics reforms carried out and the introduction of innovations in Azerbaijan. Tahir Budagov also hailed international relations of State Statistics Committee with the relevant institutions of a number of states, stressing the opportunities for the implementation of useful cooperation in this field.
The sides also exchanged views on a number of other issues of mutual interest.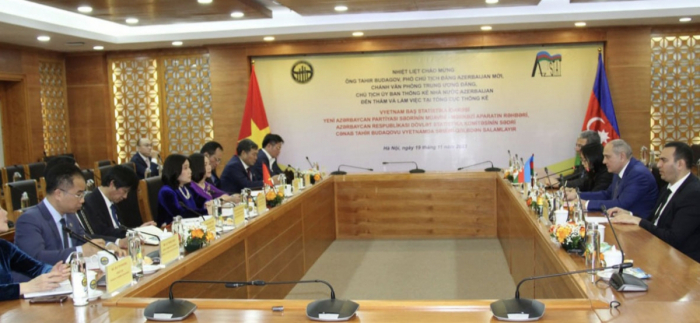 More about: #Azerbaijan #Vietnam